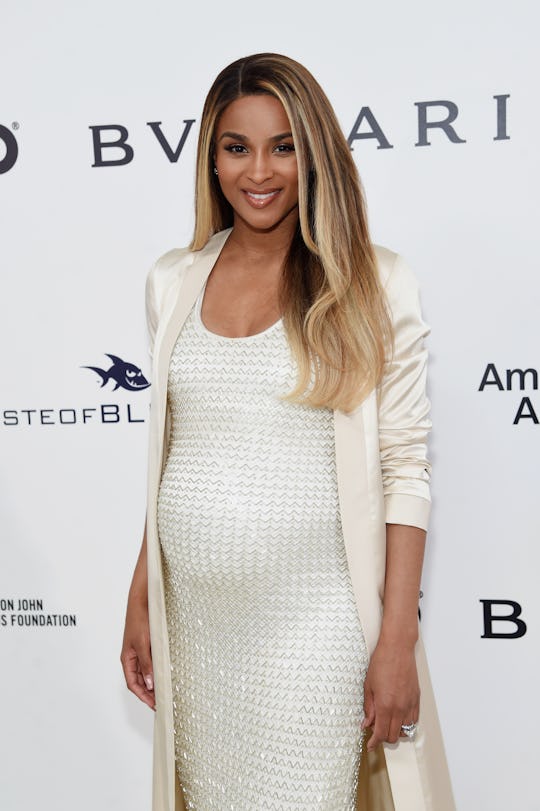 Jamie McCarthy/Getty Images Entertainment/Getty Images
Ciara Posts New Instagram Photo Following Accident
On Friday, singer Ciara was in a small car accident — and luckily, as her husband Russell Wilson later told fans, the mom of one was largely okay, if only a little shaken. The singer herself took to Twitter to update fans about her status the day of the accident as well. And late Saturday night, Ciara posted a new Instagram photo following the accident, proving that things were mostly back to normal, and that she had more important things on her mind.
Ciara has a lot to be thankful for — especially her husband, football player Russell Wilson. After her accident on Friday, Wilson was the first to let fans know that Ciara and her unborn child were doing okay. "Momma Wilson & Baby Wilson are feeling great! God is good!" Wilson tweeted. On Saturday night, Ciara very publicly shared her appreciation for her husband, making her first post to Instagram since the accident a declaration of love to Wilson — reminding fans of a very special anniversary. "Today marks 1 of the best days of my life. 3.11.16 #EngagementDay," Ciara wrote in the photo's caption. In the photo, a picture of the two of them walking down the sidewalk together, Ciara and Wilson look absolutely radiant and in love.
The anniversary of Ciara's engagement is definitely something to celebrate. Just one year ago, according to People, Wilson surprised Ciara with a vacation to the Seychelles. It was there where Wilson proposed on a very romantic and private beach and the two began one amazing year. Since then, a lot has happened in Ciara's life. The couple married in July and announced they were expecting their first child together in October. Because Ciara is likely due soon — according to TMZ she's in her third trimester of pregnancy — any happy updates from Wilson and Ciara about her health (especially following her accident) are welcome ones.
Ciara took to Twitter following the accident to let fans know that she, along with her baby, were doing okay after a driver hit the passenger side of her vehicle, according to TMZ. "Thankful for god's grace, and amniotic fluid," Ciara wrote. And she's right: For pregnant mothers, amniotic fluid is life. Among its many purposes, the fluid protects the baby from any blows or accidental hits to a pregnant woman's belly, serving as a cushion for the baby.
The amniotic fluid surrounding Ciara's baby undoubtedly served its purpose on Friday too: According to E!, Ciara, her baby, and the driver of the other car sustained no injuries as a result of the accident.
Fans can rest easy — Ciara isn't just OK, it seems she's happy, healthy, and ready to get back to normal life.