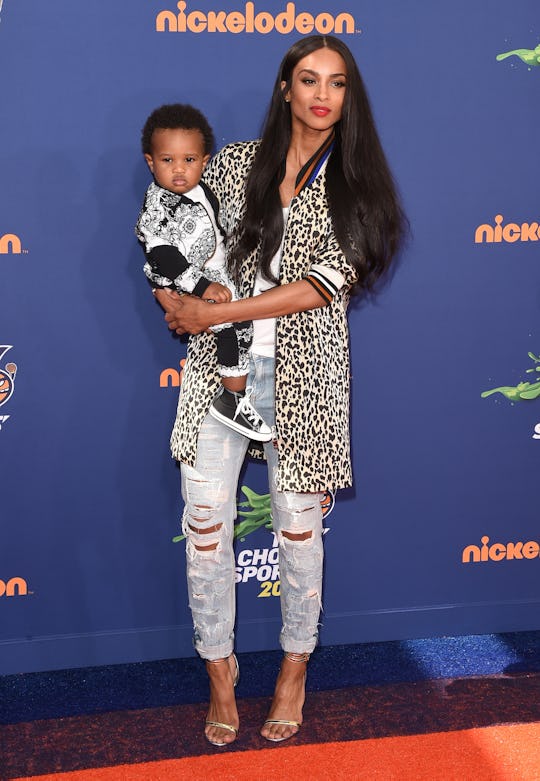 Jason Merritt/Getty Images Entertainment/Getty Images
Ciara's Instagram Is All About Loving #MomLife
There's nothing better than the sheer amount of joy and love that a child brings out of a mother. The bond between a mother and her child is definitely a special one — and it's seemingly one that only moms can understand. Singer Ciara, and her son Future Jr. are a prime example of this — and it's Ciara's Instagrams about being a mom that prove just how deep that love goes, and how parents everywhere find joy in the little, but nonetheless beautiful things.
Ciara is mom to son 2-year-old Future Zahir with ex-fiancé and rapper Future, and is currently expecting her first child with her husband, football player Russell Wilson. But while she might be a major celebrity, and while it would be easy to shy from the spotlight in her down time, Ciara certainly isn't one to hold back with her fans.
Rather than hiding from the public, Ciara instead shares plenty of moments from her personal life on her Instagram account, from #throwbackthursdays to photos of husband. She also regularly posts plenty of amazing photos and videos about life as a mother to Future Jr. and the as of yet unnamed baby-to-be. Whether she's documenting the simple moments, like playing with her son, to the relatable and frustrating moments of being pregnant, her parenting and pregnancy Instagrams show that life as a parent is full of sweet memories just waiting to be made.
In a 2016 interview with Essence, Ciara told the magazine that she was a firm believer in God's plan, according to People — from her relationship with her ex-fiancé ending, to becoming a single mother, to finding love with Wilson. According to People, Ciara said by trusting God, she "put all [her] love and focus on [her] son, and he's made [her] become even more fearless."
"I believe in family, and the beauty of two people committing to spending their lives together," she said, according to People. That devotion to family is evident in all of her Instagram posts too — not just the ones featuring her son.
What's more, Ciara's photos show that she's proud to be a mom and to be where she is today by showing tender moments shared with her family. "No greater blessing than having family," she wrote in the caption of a photo featuring herself with Wilson and son Future, following Wilson's NFC loss in January.
In an interview with Legend magazine this past October, Ciara also told the magazine, according to The Daily Mail, that having a son taught her how to love "so much better." "Before this, I don't think I understood love, honestly, but now I'm better at love, better at loving, better at patience." Just by looking through Ciara's Instagram photos you can sense as much:
Ciara's parenting Instagrams also show that she is raising her son right — teaching him the importance of supporting women at a young age. When millions of women took to the streets in January during the Women's March on Washington, Ciara took to her Instagram account, where Wilson and her son shared their support for the women marching. "All the women should be treated equal," Future Jr. said in the video posted to her Instagram, as she and Wilson coached him on the proper words. "You have our support."
Just as she's open on her Instagram, Ciara is equally as open in interviews about the effect her son has had on her life, telling E! News earlier in February,
There's something about having a child and knowing you're responsible for someone else that gives you an extra pep in your step and also defines the reason of why you do what you do. Not only because I love it, but I also have someone to take care of. My son is my world, he means everything to me. He's came into my life and brought me something that I've never felt before, he brought me a love I could have never imagine and I just feel responsible for that.
Ciara's best "mom" Instagrams, like in the video above, show that she is truly comfortable and, more importantly, happy raising her son to recognize the important things in life. Because when your children are happy or silly or learning new things, as Ciara might tell you, that's what makes everything worth it.