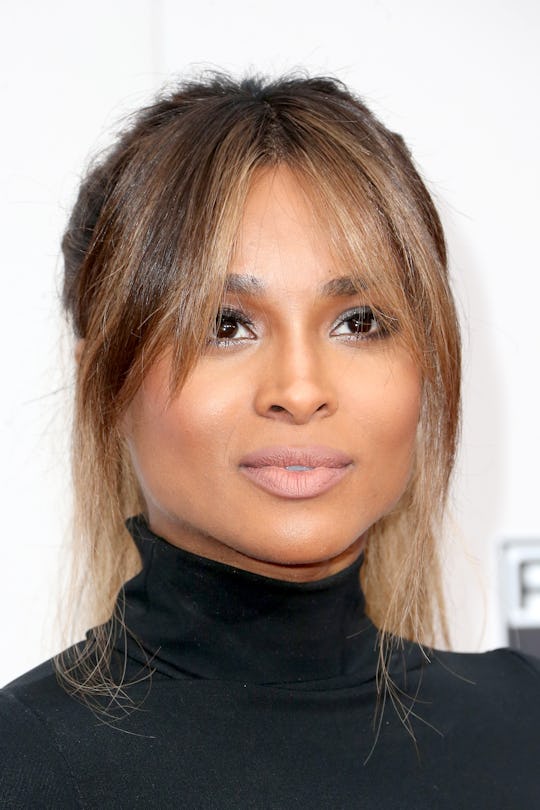 Frederick M. Brown/Getty Images Entertainment/Getty Images
Ciara's Calvin Klein Pregnancy Bump Ad Is Adorable
Calvin Klein never disappoints with its iconic ads and it looks like the brand is still going at it with their #mycalvins campaign. Judging from a sneak peek on Instagram, it looks like singer Ciara's Calvin Klein ad features her baby bump and there might be even more pregnant models coming. Hey, feminists can dream right? On Friday, Ciara posted a picture of herself on social media wearing a bralette and Calvin Klein briefs under a pair of overalls. She captioned the picture, "Loved working with @CalvinKlein on this special project! #mycalvins #ad." It's not clear yet from the teaser if the ad will feature her totally bare or if the denim comes with it. But either way, the snap is a welcome body positive move from the designer brand.
This is Ciara's second child, and her first with husband Russell Wilson, who is a quarterback for the Seattle Seahawks. She has a 2-year-old son, Future Zahir, with her ex Future. The Calvin Klein won't be the first time we got a glimpse of Ciara's bump. She's been posting pregnancy pics on her Instagram and attended the American Music Awards in November, proudly showing off her bump in a Stephane Rolland dress on the red carpet.
She told People at the fall award ceremony that she's having a pretty easy time so far with her second pregnancy. "Finally getting to a place where I feel almost normal. It was a bit of a 'I don't want to throw up, but I don't feel regular.' I'm in between. That's almost worse. You'd rather just throw up and get it done!," she told reporters. Preach, Ciara, preach.
Ciara also said that she takes full advantage of her pregnancy cravings and tries not to limit herself. "Honestly, I eat. I love eating. I enjoy it, and I take advantage of it when I'm carrying! I eat all the food I want to at any time," the 31-year-old mom joked. Judging by her Calvin Klein teaser ad, whatever she's doing seems to be working for her. She looks healthy and happy, which is more important than anything else. Although pulling off overalls is a tremendous feat, if we're being completely real.
The #mycalvin campaign usually features a model with a tagline stating what they "do" in their Calvins. We can only imagine that Ciara is having trouble deciding between "SLAY" or "possibly puke" in her own undies. Pregnancy is full of tough decisions.
The ad campaign met with some controversy earlier this year for being too "sexualized," with actress Klara Kristin "flashing" in her Calvins and Kendall Jenner "eating" a super juicy grapefruit in her own version.
But Calvin Klein has always pushed the envelope a little bit with its legendary ads. Who can forget 15-year-old Brooke Shields and "nothing" coming between her and the designer jeans? But the brand has never done a series of ads featuring pregnant women, so whatever this "special project" with Ciara turns out to be will be more than welcome. It's refreshing to see to pregnancy look so empowering from a designer brand.