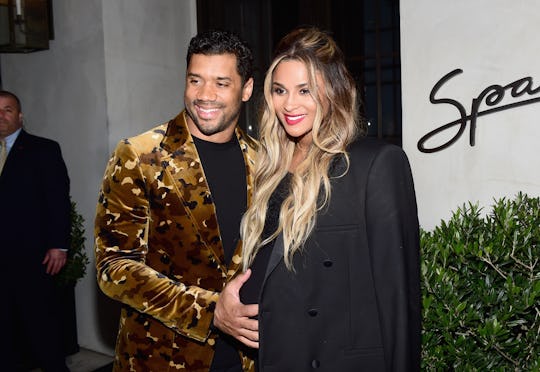 Emma McIntyre/Getty Images Entertainment/Getty Images
Ciara's Pregnancy Video Is Beautiful
Just two days after Ciara shared the news that she had given birth to her second child, she gave the world another gift: a beautiful peek into the final days before she welcomed her daughter Sienna Princess into the world. Captioned with a simple "You Bring Us Peace," Ciara's pregnancy video is a short, black-and-white look at her and her husband's last few joyful days of anticipation before meeting their new arrival.
In the Instagram video, Ciara and her husband — NFL quarterback Russell Wilson — walked down the beach, had fun on a pair of swings, took pictures, and relaxed. Keeping with the video's caption, Ciara and Wilson both looked very much at peace and in love.
Ciara announced Sienna Princess' arrival on Saturday with an Instagram shot of herself while pregnant and sitting on the beach. "Dear Sienna Princess Wilson," she captioned the picture, including Sienna's birth day, time, and weight. "No matter how big the wave, we will always be your calm in the storm. We Love You. Love, Mommy & Daddy."
Sienna is Wilson and Ciara's first child together, although Ciara is already a mom to Future Zahir, her 2-year-old son from a former relationship with rapper Future. Wilson and Ciara's first public appearance together was in spring 2015, according to People, and the couple got married in July 2016.
Just a few months after Wilson and Ciara's wedding in a castle in England (I know, life's not fair), Ciara announced her second pregnancy via Instagram in October. She shared a picture of Wilson and herself, holding her baby bump, and wrote, "I'm excited to Finally share one of the Greatest Gifts of All that God could give."
After the announcement, fans got to see regular glimpses of her growing bump and her daily life with baby Future and Wilson on social media. "I'm just super excited about this time in my life," Ciara told Harper's Bazaar in March. "Like, Oh my gosh, I can see my son running around, and soon it's going to be two of these creatures running around! Our hands will be full of non-stop action."
Despite the fact that Wilson and Ciara now do have those hands full with two young little creatures, their pregnancy video proves that they're more at peace and in love than ever. Here's to hoping the new parents will be sharing some adorable videos of Sienna and her big brother Future soon!