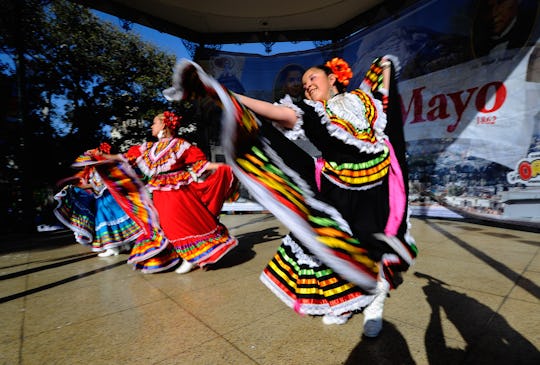 Kevork Djansezian/Getty Images News/Getty Images
Cinco De Mayo Quotes To Help You Properly Understand & Celebrate The Holiday
Break out the cervezas (respectfully) because today is Cinco de Mayo. In the United States, Cinco de Mayo has become a celebration of all things Mexican, but it's much more than that. It commemorates the defeat of Napoleon III. He and his army of 14,000 troops tried to invade Mexico in 1862. With some help from the United States, the Mexican army (of only 4,000 people) was able to fend them off and maintain control of their land. While this holiday celebrates Mexican independence, it is not to be confused with Mexican Independence Day, which is in September. It's instead a celebration of the Battle of Puebla and victory against all odds. It was a turning point in the Franco-Mexican War, which spanned from 1861 to 1867. To get you in the holiday spirit, here are some Cinco de Mayo quotes.
Even the biggest tequila fans may not know that Cinco de Mayo's signature drink was invented by Aztec priests. They brewed a precursor to tequila, called pulque, by distilling agave nectar. Its look has changed since then, but it still tastes like a drink of the gods. What may not be so surprising is that 47 percent of all the drinks ordered on Cinco de Mayo are margaritas. Tequila sales easily double within the week leading up to this infamous holiday. Basically, this holiday doubles tequila sales across the United States. But obviously there is so much more to the cultural holiday than drinking, and these quotes help to remind people of that.
"Cinco de Mayo has come to represent a celebration of the contributions that Mexican Americans and all Hispanics have made to America."
Joe Baca, former state congressman for San Bernardino County, shared this during his time in office. Throughout his career he's been an advocate for the Latino community. Since his retirement from politics he's made local headlines for switching his party affiliation from Democrat (which he had been for more than 30 years) to Republican.
Ryan Seacrest Gets Real
Today on Twitter T.V. personality Ryan Seacrest shared his incredulity at a circling statistic that Americans consume 81 million avocados on Cinco de Mayo. It sounds like a lot, but he thinks maybe it should be more.
This Classic.
It never gets old, does it?
"Gone are the afternoons of benign liquid and for one day only, it seems like the entire American population is trying their hand at the tequila diet."
Leandra Medine wrote about appropriation and ignorance when it comes to Cinco de Mayo celebrations for Man Repeller. Keep this in mind if you feel tempted to don a fake mustache and poncho tonight.
"Success is to be in peace and harmony with yourself, enjoying the moment."
While this is not directly related to Cinco de Mayo, it's still important. Guadalupe "Pita" Betancourt has been an active advocate for Latinos in the United States in her roles as an educator, a Human Rights Watch team member, and a mentor for the Boys and Girls Club. She moved to the United States in 1997 and has been a role model for women activists ever since. Today, like all days, should be a celebration of everything you can accomplish for your community.
Even though today is often offensively called "Cinco de Drinko," (come on) remember that the holiday has its roots at the Battle of Puebla, when the United States and Mexico worked together, side by side. Think of it as a celebration of Latinos in America, Mexican-American relations, and a spirit of acceptance. In the thick of an election notable for its xenophobia and anti-immigration rhetoric, use Cinco de Mayo to remember there's another way. And it's better.