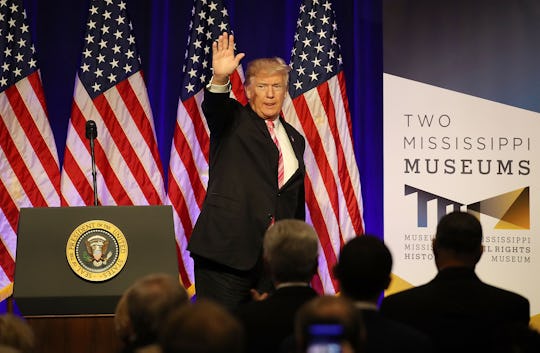 Joe Raedle/Getty Images News/Getty Images
Trump Visited The Civil Rights Museum & People Had *Thoughts*
There's usually always some amount of controversy surrounding the presidency, no matter who is in office. But with the current administration, things have gotten a bit more divided. And now, civil rights leaders are responding to Trump's visit to the civil rights museum, and no one is mincing words. The opening of the Mississippi Civil Rights Museum Saturday was rife with tension, as President Donald Trump spoke at the event with a lineup that was quickly changed when his presence was announced.
According to NBC News, "Civil rights icon John Lewis, Jackson Mayor Chokwe Lumumba, Rep. Bennie Thompson and Myrlie Evers-Williams — widow of slain civil rights leader Medgar Evers — were slated to attend," and then Trump accepted his invitation, and the event took on a completely different tone. After it was announced that Trump would be attending the museum opening and giving a speech, all of the above attendees other than Evers-Williams backed down. In fact, Lewis and Mississippi Democratic Rep. Bennie Thompson released a joint statement about their absence, according to CNN, which reads,
President Trump's attendance and his hurtful policies are an insult to the people portrayed in this civil rights museum.
And now, not only are civil rights leaders speaking out about Trump's attendance at the event, but many on Twitter are also expressing their disgust at having Trump speak at the event.
Due to the controversy surrounding Trump's visit to the museum, officials made the decision to alter the program. "Trump ended up touring the museum complex, which includes the civil rights museum, and speaking at a private ceremony inside the new building, separate from an event outside on a public stage," according to Politico.
But, that doesn't mean that the event wasn't marked by tension. Jackson Mayor Chokwe Antar Lumumba was one of the officials who boycotted Trump's speech, and, per CNN, he made a compelling remark for why:
It is my appreciation for the legacy of the individuals who stand with me today, it is my appreciation for the Mississippi martyrs that are not here, the names both known and unknown, that will not allow me, that will not allow many of us standing today, to share a stage with the President; to share a stage with an individual who has not demonstrated a continuing commitment to civil rights, a continuing commitment to human rights, a continuing commitment to women's right. It is his pompous disregard for all of those factors that will not enable us to stand with him.
In a response to Trump's appearance, the NAACP held a press conference on Saturday to address the controversy. "We refuse to give a big picture to an individual who don't care about our voting rights and seeks to suppress it," NAACP President and CEO Derrick Johnson said, according to CBS News.
For the most part, Trump's speech at the event was fairly tame. After paying tribute to Edgers, who was murdered by a white supremacist in 1963, he said, "Today, we strive to be worthy of their sacrifice," according to Politico. "We pray for inspiration from their example. We want our country to be a place where every child from every background can grow up free from fear." However, Trump also couldn't help but brag, just a little. "It is an incredible tribute to the state, a state where I've had great success," Trump concluded.
The fact of the matter is, Trump doesn't exactly have the best track record when it comes to civil rights. Trump has been accused of threatening voter rights, failing to condemn white supremacy, and much more. Clearly, his attendance at the opening of a civil rights museum wasn't exactly the wildly popular event he might have hoped it would be. Fortunately, though, civil rights leaders are speaking up, and the conversation surrounding their remarks and Trump's attendance is an important one. Hopefully, it will continue.