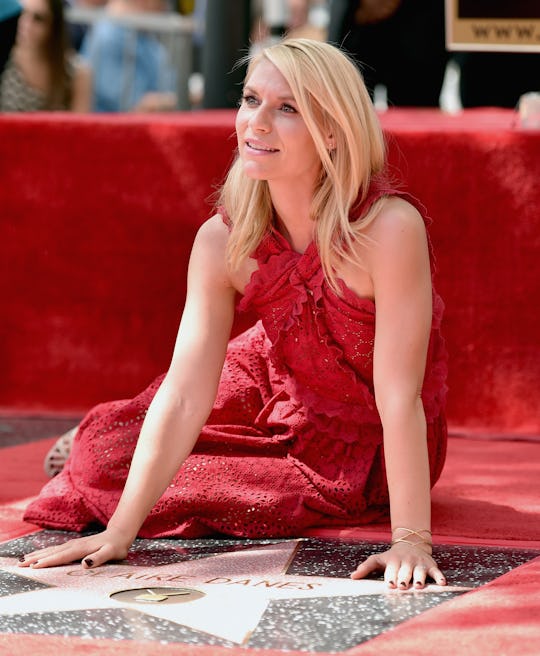 Claire Danes Talked About Body Image, & It'll Make You Want To Be Her BFF
If you're a woman of a certain age, you've basically grown up with Claire Danes. So when Danes talks about body image and motherhood, it's easy to pretend she's your new BFF. We've come a long way from squirmy Angela Chase on My So Called Life. Danes is always chooses complicated, messy women to play. And it's not just her character Carrie Mathison on Homeland, who is bipolar and may or may not have just drowned her baby on the show. She recently showed upon Aziz Ansari's Master of None (spoiler alert!) playing an uber- successful food critic to cheat on her uber-successful husband (don't worry, Aziz handles it).
Next month, Danes is on the cover of Allure magazine and already her interview has people talking. She tells that she has a really hard time bringing herself to care about what people think of her looks:
I'm very vain about my performance. I want to give as honest a performance as I can. But I'm not so worried about being regarded as beautiful when I'm playing a character. I have plenty of vanity in my life. I want to look pretty in the world. But it can be this bottomless pit. I know some of the most beautiful women on the planet—unequivocally, objectively friggin' gorgeous—and they are rife with insecurity and self-doubt, and you just think, 'Well, how can that be?' 'I'm attractive enough. I can do the work I want to do. I've found this wonderful man who wants to make out with me. I'm good.
But Danes has always been outspoken about her career and about being a woman, especially now that she's a mother. Some thing you might not have known about her.
Her Toddler Scares Her
She said in the October 2014 issue of Harper's Bazaar UK that her toddler is "a bit of a ham."
He's kind of revealing himself to be a bit of a ham which shouldn't really be a surprise. A babysitter gave him a kiss goodbye and now he does "Mwah, mwah" to everybody. Or he says "Ciao." It's ridiculous. I did not teach him that. He sings "Ee-eye ee-eye oh" to himself all the time. And he's a toddler, so he says "No" and "More" a lot and he's just started to have temper tantrums. It's scary.
Transitioning Into A Mom Was Hard For Her, Too
In that same 2014 issue of Harper's she riffs on how having the responsibility of a kid is super tough:
Being a mum is incredibly challenging but we still feel a pressure to talk about it in very romantic terms. And it's not just that. We all have that resentment at times and anxiety about being trapped by the role, that responsibility. And then chemically it can run riot. Your mental state, the hormonal swings are so extraordinary and singular to the female experience and they haven't been taken very seriously or considered very deeply... I mean, post-partum aside, even if you have the most healthy relationship with your child and have support and resources, it's tough. It's really tough. And there's no "off" button. [For me] that was the hardest adjustment. You always feel beholden to somebody... And for so long they're like koala bears, you just feel a physical responsibility to be there for them to cling to. It's pretty primal.
She Threw A BBQ For Jordan Catalano
She Didn't Want To Look Pregnant
She told People mag in August that she was really worried about filming Homeland while pregnant.
I was very anxious about my pregnancy because I was responsible for this huge show, and I didn't want to let anyone down at work, but I had this other major project of growing a person. I was mindful of what I was eating because I didn't want to look pregnant.
She's Not Afraid To Be Afraid
In December's Allure cover story, Danes says if you care, you have fear.
Oh, I'm full of fear. I care about things; therefore, I have fears. I like to think that I'm brave, which is different. Brave means you're able to admit that you care. If you care, you are vulnerable.
If women need a spokesperson in Hollywood, let Claire Danes at it. She always has a way of saying exactly what I'm thinking anyway.
Image: Alberto E. Rodriguez/Getty; YouTube; Giphy