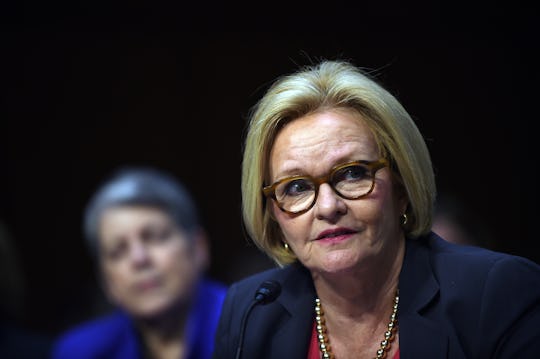 Astrid Riecken/Getty Images News/Getty Images
Claire McCaskill Diagnosed With Cancer, But She Expects To Make A Full Recovery
News came on Monday that Sen. Claire McCaskill was diagnosed with breast cancer. The Missouri Democrat shared the news via Twitter and Tumblr. A brief message on her Tumblr account explained that the diagnosis was made after a routine mammogram, but reiterated that the senator was expected to make a full recovery.
McCaskill, who has represented Missouri in the senate since 2007, will be taking a leave of absence for 3 weeks while she receives treatment in St. Louis. According to her Tumblr message, during this time she will continue to post messages at her website, inluding information about how she would have voted on "any matters that come before the Senate during my absence." She added that the missed votes will be included in her congressional record, and also assured her constituents that "I'll be submitting questions in writing for any missed Senate hearings."
This is a thorough game plan indeed, but one expects nothing less from the woman who once wrote this exceedingly awesome editorial for The Daily Beast explaining why there is no war on men, as Wall Street Journal columnist James Taranto once claimed. Fellow badass congresswoman Sen. Elizabeth Warren of Massachusetts wished her colleague a speedy recovery, and referred to McCaskill as "one of the Senate's toughest fighters."
Warren wasn't the only congressperson to show her support for McCaskill. Soon after the news broke, Sen. Lindsey Graham and Sen. Heidi Heitkamp both tweeted their support, and Democratic presidential candidate Hillary Clinton also tweeted support, telling McCaskill to "stay strong and take care of yourself."
Though McCaskill characterized the diagnosis as "a little scary" in her Tumblr message, it's clear that she's up to the task of fighting the diagnosis. We're all rooting for her to get well soon.