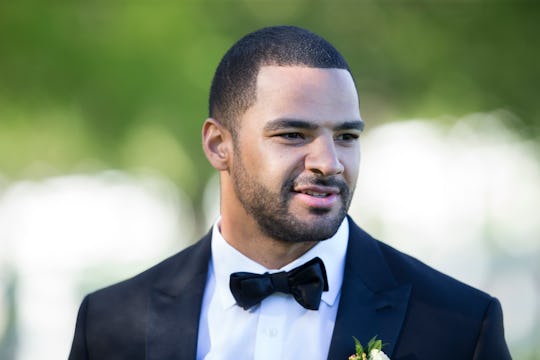 Paul Hebert/ABC
Clay's Instagram Makes Us Miss Him On 'The Bachelorette' Already
One of my favorite contestants on Becca Kufrin's season of The Bachelorette is Clay Harbor. The pro football player has been consistently sweet and genuine, and since his injury and subsequent departure from the show, fans have been rallying for him to become the next Bachelor. And just one look at Clay's Instagram shows that the Bachelorette contestant is everything the Bachelor should be. He may not have had a chance at love this season, but he definitely deserves another one.
For fans, Clay has been a frontrunner since the very beginning. Not just because he's a major hunk, but also because his personality comes across as very kind, respectful, and gentle. He seems to be the total package, and his Instagram page just proves it even more. It's filled with photographs of his family, which goes to show that he's really the caring, loving person you've been seeing on the show.
The most adorable pictures Clay has posted are of his nephew. He posted one video in which his nephew is seen telling his parents that "Uncle Clay is the best" and another of him chilling in his literal crib with Clay. There are tons of pictures of Clay with his family, including his mom, dad, and two brothers, and an especially amazing one of Clay with his entire family, including his two grandmothers attending a game.
Along with a ton of family photos, Clay's Instagram is filled with stills from his football games. While he's currently a free agent, he's been playing professionally for 9 years. He's played as a tight end for Philadelphia Eagles, the Jacksonville Jaguars, the New England Patriots, the Detroit Lions, and most recently was put on injured reserved for the New Orleans Saints. He posted one picture cheering on the two 2018 Super Bowl teams, because he had played for both of them. He captioned the photo:
"Good luck to both squads tonight! I've been blessed be a part of both organizations and have tremendous respect for both cities. #fairweatherfan"
Bachelor and Bachelor In Paradise contestant, Amber James, made an appearance on Clay's Instagram, in which he reveals that they are good friends. When digging into Amber's Instagram, Clay is seen a bunch of times, which makes me secretly hope that they are dating because they would make a beautiful couple. But it could just be that they are just really good friends and hang out frequently, because both of them are based in Chicago.
After all, Clay is an athlete, so his page is full of videos and photos of him working out, including a cool picture of him at the gym with The Rock, aka Dwayne Johnson. And all that working out has seriously paid off, because the numerous shirtless pictures Clay has posted are well worth checking out. In one recent picture dated May 31, Clay is seen playing ball with his two dogs in which he mentions that they are his two best friends. A buff guy who loves his family, animals, and plays football? Swoon.
Clay has really left a great impression on fans, and since his decision to leave the show due to an injury, they have taken to Twitter to nominate him as the next Bachelor:
I don't know what's in store for Clay in the future, but I'm sure fans will be seeing more of him. Whether it's on the field playing football, looking for love in Mexico on Bachelor In Paradise, or ending up as the next Bachelor, Clay's story is far from over, and as a fellow Chicagoan, I wish him all the luck in the world.