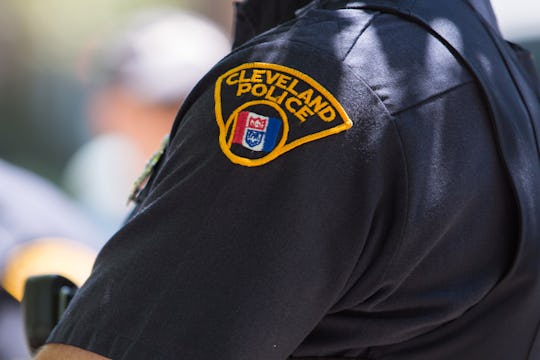 Ricky Rhodes/Getty Images
Cleveland Police Officers Fired In Connection To 2012 Car Chase & It's A Big Moment For The Black Lives Matter Movement
A Cleveland police spokesperson this week confirmed that six Cleveland police officers had been fired reportedly in connection to a 2012 car chase and shooting which left black residents Timothy Russell and Malissa Williams dead. Detective Steve Loomis, president of the Cleveland Police Patrolmen's Association, said Tuesday that officers Wilfredo Diaz, Brian Sabolik, Erin O'Donnell, Michael Farley, Chris Ereg, and Michael Brelo had been terminated from their respective positions, and that six other officers had been suspended without pay for 21 to 30 days. It's big moment for the Black Lives Matter movement, one that was necessary after a grand jury declined to indict that majority of the officers on criminal charges last year.
Only one officer, Brelo, was indicted in May last year and even then, the officer was found not guilty of manslaughter and felonious assault. Court documents later showed that Brelo had allegedly fired 59 of the 137 shots that riddled Russell and William's car during a firefight between the two and police on the night of Nov. 29, 2012. According to officials, Brelo had reportedly climbed onto the hood of the car to fire 15 shots directly into the windshield.
When Brelo was acquitted in May 2015 (jurors said they could not be sure who had fired the fatal shots that killed Williams and Russell), protests broke out around Cleveland, with demonstrators wearing Black Lives Matter shirts and chanting "No justice, no peace," according to CNN. Protestors blocked the highway and congregated outside the courthouse, but in the protests were largely peaceful.
The department announced Tuesday that the 13 officers who were suspended or fired were found to have allegedly committed several violations that reportedly ranged from not requesting permission to join a pursuit to violating firearms safety protocols.
The Cleveland Police Patrolmen's Association this week said it would fight the officers' firing. "These officers have been honorably working for the citizens of Cleveland for the last three years while the city held on to their investigation during that time," said Steve Loomis, president of the CPPA, in a statement to Fox News. "We will immediately and aggressively fight this discipline through our grievance procedures to correct this injustice." He added that the reprimands were "the direct result of the current and false narrative surrounding the facts and law enforcement throughout this country."
The families of Russell and Williams were each paid $1.5 million in order to settle a wrongful death lawsuit. Between the payout, the officers' firing, and an 18-month Department of Justice investigation that required Cleveland to devise a plan to reform its police force in December, law enforcement may finally be responding to public pressure. It may not be the criminal charges that protestors wanted after Brelo was acquitted, but it is progress — and for the Black Lives Matter movement, it's almost a victory.
Images: Ricky Rhodes/Getty Images (2)