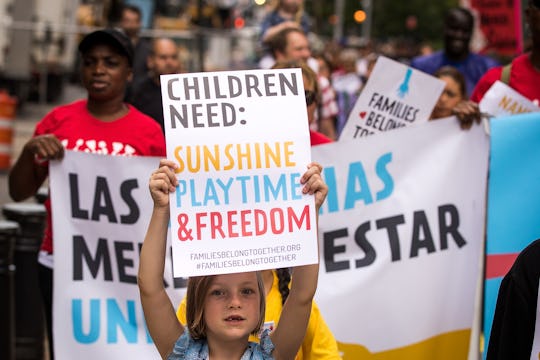 Drew Angerer/Getty Images News/Getty Images
"Climate Change Kids" Are Suing The U.S. Government & Hello Inspiration
Trying to mobilize adults into advocating and protesting for the policies they believe the government should uphold is a challenge in and of itself. In the aftermath of the 2016 election, there's been a renewed sense of importance when it comes to being vocal, getting involved, and of course, voting. It's all the more humbling to learn that there's a group of kids in Oregon, now dubbed the "climate change kids," who are suing the U.S. government on account of constitutional violation of "climate system capable of sustaining human life." These kids are reminding us all that activism knows no age.
The Oregonian reported on Wednesday that 21 young activists and their attorneys are suing the President and eight federal agencies on the account of negligence and violating the public's right to a safe and healthy environment. Hailing from 10 different states and ranging in age from 11-22, the activists and their attorneys have asked the court to order "a 'national remedial plan' to phase out fossil fuel emissions, draw down excess atmospheric carbon dioxide and then monitor compliance," the newspaper reported.
One of the activist's lawyers, Julia Olsen, told the paper that though court is a "last resort," she believes that the government has indeed violated their right to a clean environment by "promoting fossil fuel consumption, leasing lands for mineral development and permitting oil and gas wells, coal mines, pipelines and power plants."
In the briefing, the group argued that despite "long-standing knowledge of the resulting destruction to our nation and profound harm to future generations," the government has continued to take the necessary procedures to ensure that the climate is not negatively impacted by fuel emissions and other dangers. Oregon Live reported that Olsen added:
The Constitution is silent on national energy policy, but it is loud on liberty. No branch of government has more responsibility than the court, especially in a case with children who have no political power... This generation has not faced a constitutional question greater than this one.
This is not the first time in recent history kids took it upon themselves to advocate for fairer policies. Back in March, high school students around the country organized the National School Walkout, CNN reported, which was a daylong series of protests at more than 2,500 schools.
The network reported that protesters were advocating for the government to "ban assault weapons, require universal background checks before gun sales, pass a gun violence restraining order law that would allow courts to disarm people who display warning signs of violent behavior."
Additionally, many children were seen protesting family separation at the Mexican border, The New York Post reported. ABC News reported as recently as Wednesday that nannies and children were still protesting outside of ICE offices. The report added that the children actually staged a "mock trial" at the steps of ICE's official office centers, and proceeded to chant and protest for the safe reunification of families and kids, and for stricter policies on family separation.
As for the case of the climate change kids, Courthousenews.com reported that U.S. attorneys are responding to the lawsuit dismissing any responsibility. "The United States government doesn't force people to drive their cars or command them to ride in planes," attorney Frank Singer said. "It's a matter of arithmetic. It is really third parties that are contributing to this. It is not the United States. And so this case fails."
Regardless of what happens next in court proceedings (if they even get that far) the message that's being communicated is even more important: kids aren't going to sit back and allow their futures to be dictated by those who are negligent to their basic, human needs. Kids are standing up, and we should be standing with them.