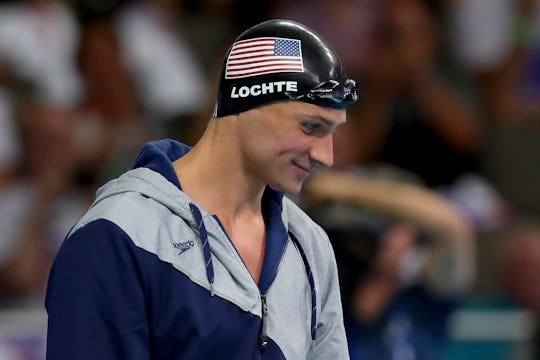 Tom Pennington/Getty Images Sport/Getty Images
Clips From Ryan Lochte's TV Show Will Remind You Why He's A National Treasure
Sometimes dreams do come true. This has most recently been evidenced by the fact that American swimmer, gold medalist, and legal owner of the word 'Jeah' Ryan Lochte will be returning to Rio this summer for his fourth consecutive Olympics games. If you're looking for proof that the one-time reality television star will bring some verve to the 2016 Olympics, clips from Ryan Lochte's TV show will surely convince you that he's a national treasure.
Lochte first wafted into the national consciousness during the 2004 Olympics in Athens, when he won a team gold medal in the freestyle relay and an individual silver in the 200-meter individual medley. Four years later, he stunned the swimming world at the 2008 Beijing games by winning the individual gold in the 200-meter backstroke, breaking the world record and upsetting the defending champion. In addition to this gold win, Lochte won a team gold and two bronzes. In 2012, he racked up another five medals in London, making him one of the most decorated male swimmers in the world.
Some would argue, though, that even more impressive than Lochte's Herculean swimming abilities is his bizarre pop culture presence. Deemed the "platonic ideal of bro-dom" in a 2013 NPR analysis of what constitutes a "bro," Lochte is known for his generically attractive features, affinity for serial dating, and tendency to speak in halting monosyllables. After making guest appearances on such television culture juggernauts as 30 Rock and 90210, Lochte landed his own reality television series in 2013: E!'s short-lived What Would Ryan Lochte Do? was cancelled after five episodes. ‌
In an E! first-look at the series, we are promised to see Lochte "showing off his insane closet, getting his party on with the ladies, and... well... talking about himself." By all accounts, that's precisely what the failed series was about. At one point, Lochte showcased his license plate, which reads 'Jeah,' a catch-phrase that Lochte trademarked in 2012, according to ESPN. When asked what 'Jeah' means, Lochte reportedly said, "It means, like, almost everything."
In one utterly priceless What Would Ryan Lochte Do? clip, the interviewer asks Lochte what he's thinking about when his mind wanders off. "I don't know!" he responds, then adds, after some reflection, "Something will pop up in my head, it could be like the weirdest thing, like all of a sudden, I have like a jumping banana in my head, and I just stop, and pause. I'm like, that damned jumping banana is in my head!" ‌
In another clip, Lochte confesses that he doesn't "even remember" how many Olympics medals he's received. (11.) Later, in response to the media's assertion that he's a douchebag, Lochte counters, "Douchebag. I don't even know, what is douchebag?"
Turns out, this strategy of shifting any sort of potential interlocution into a rhetorical question is Lochte's trademark (after 'Jeah,' that is). In a must-see 2014 interview with Fox 29 Philly, one of the news anchors asks, "Would you describe yourself as a player?" In response, Lochte says, "What is a player?" Later, the other news anchor asks, "What are you doing?" In response, Lochte says, "What am I not doing?"
(When the interview ends, the camera keeps rolling and one of the anchors laughs so hard that she cries. See below.) ‌
More recently, Lochte made headlines for adopting an inexplicable white-ish blue hair color for the upcoming Rio games. The 31-year-old now defines himself as a reformed party boy who is "more mature" than ever, but with his new 'do, it's safe to say that he still likes the attention.