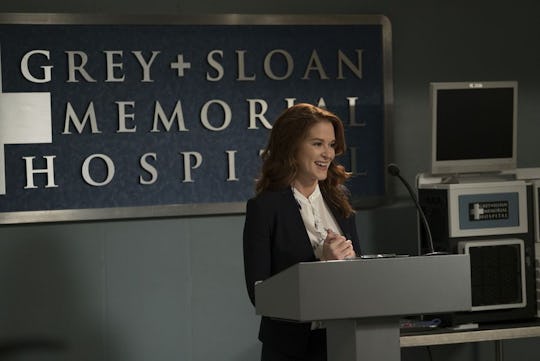 Byron Cohen/ABC
Clues April Doesn't Die On 'Grey's Anatomy' That Every Fan Needs To Hear
Grey's Anatomy fans were left feeling very nervous after the preview for this week's episode aired. The promo showed April Kepner (Sarah Drew) seriously injured and with Drew due to exit the series after this season, fans have now jumped to the conclusion that she's going to die. Thankfully, there are actually a number of clues that April doesn't die on Grey's Anatomy, which should help put your mind at ease.
Speculation that April would be killed off the show began a while ago when news first broke that Drew, along with Jessica Capshaw, wouldn't be returning for the next season of Grey's. Earlier this year, April was in a bad place where she was seriously questioning her faith and ended up drinking a lot and sleeping with various men — something that was quite out of character for her. Fans feared that April had gone off the deep end and she'd end up hurting herself or perhaps dying in a drunk driving incident.
Thankfully, after talking to a dying rabbi, April found God again and she's been doing quite well ever since. That's why the teaser for this Thursday's episode was so shocking. However, before you start mourning April, check out these clues that hint this beloved doctor will probably be just fine.