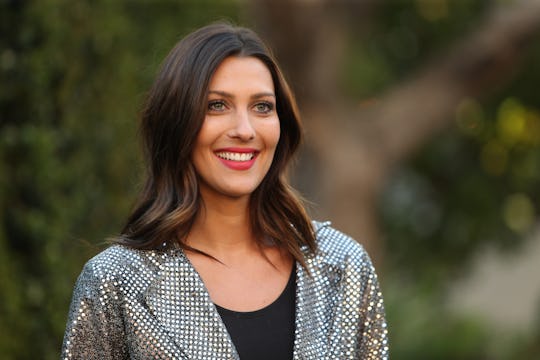 Paul Hebert/ABC
These Clues More Than Prove That Becca Wins The Final 'Bachelor' Rose
The final weeks of The Bachelor have finally arrived and everyone is eager to know who takes home that Neil Lane diamond ring in the end. Because I spend an inordinate amount of time researching these things, I have assembled all the clues Becca wins The Bachelor, because it has become totally clear to me. If you just pay attention you'll see that all the answers are there if you only know where to look. Becca and Arie definitely got engaged at the end of this "journey." Whether or not they'll ever make it down the aisle is a question for another day.
In order to reach this conclusion, I looked carefully at the moments Arie and Becca shared together, parsed what I already knew about Arie from his previous season on the show, paid careful attention to their interviews, and even closer attention to their dates. Arie is down to his final two contestants, Becca and Lauren B., and though he seems very conflicted, I feel like I know how this is all going to play out. I mean when you look at all the evidence below, you'll see what I see. Becca is going to win this thing and these clues more than prove that fact...
Arie's Preferred Make-Out Style
In case you forgot, Arie is known for two things: his love of cars and his reputation as the "kissing bandit." Arie's most famous moment from his time on Emily Maynard's season was when he gently pushed Emily up against a wall, cradled her face in his hands, and went in for a big ole smooch. It's an undeniably hot moment, and we all know that Arie loved Emily. As you can see above, Arie also kisses Becca while leaning against walls. Boom.
Becca's Family Was Harder To Impress Than Lauren's
Sure, Lauren's dad seemed threatening at first, but he relaxed immediately as soon as Arie mentioned that he went on a goodwill tour in Iraq. Becca's uncles, however, were way more begrudging when they finally gave him their blessing. Uncle Gary, in particular, was not afraid to tell Arie that they would protect her in all circumstances. If I were Arie, I'd definitely be more afraid of the "guard dogs" in Minnesota than Lauren's affable dad in Virginia.
He Already Gave Her The "Pretty Woman" Treatment
On their first date, Arie took Becca on a private shopping spree, in which she got Louboutin shoes, diamond jewelry, and at least one fancy Rachel Zoe dress. And obviously when you give a woman a bunch of sparkly things that means she's yours forever. Just ask Richard Gere.
She Didn't Break Up With Him After Her Fantasy "Suite"
While other women got huge hotel suites with running water and everything, Becca got a twin-sized mattress on the floor in a tent in the middle of the desert. Even she noticed a bit of a discrepancy judging by her Instagram story. And yet, she still told him she loved him. Go figure.
Becca's Hunky Ex Didn't Scare Him Off
When Becca's ex-boyfriend Ross showed up in Peru to take Becca back, Arie was spooked but didn't run away. So... loyalty! After overcoming this awkward encounter and convincing Becca not to choose Minnesota Ross, it's only fair that Arie give Becca the proposal in the end. Aren't those the rules?
So there you have it. It's not scientific, but I think I've presented a pretty compelling case here. Now we must all wait to see if I'm right.
Check out Romper's new video series, Romper's Doula Diaries:
Watch full episodes of Romper's Doula Diaries on Facebook Watch.