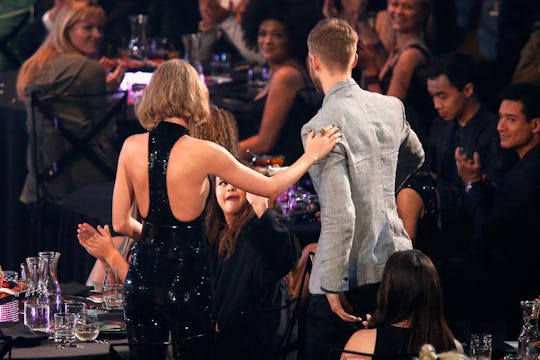 Rich Polk/Getty Images Entertainment/Getty Images
Clues That Taylor Swift & Calvin Harris Were Breaking Up Were Far & Few Between
The world collectively cried on Wednesday when it was announced that Taylor Swift and boyfriend Clavin Harris decided to break up and go their separate ways after being in a very public and very adorable relationship together. What was most shocking about the break up is that not many people saw the split coming, as just a few weeks ago, the two looked very much in love. So what now? Fans are now looking back to try and find clues that Taylor Swift and Calvin Harris were planning on breaking up — and to be honest, they're few and far between.
Swift and Harris had only been dating for 15 months — a little over a year — but those months seemed like the most magical time in their lives (heck, Tayswift even said it herself). The couple were so publicly supportive of one another and not afraid to share their romance with the public, which made fans root for them to work out even more. From the vacation photos, to Swift's Instagram posts, to their awards shows appearances — Swift and Harris had a lot of adorable moments together. And with Swift posting something about Harris from her Instagram account just four short weeks ago, fans are more confused now than ever why they decided to split.
Here's a look back on the recent moments that show us why this split comes as such a surprise, but could, under the surface show surprising strife between the couple.
Swift's Support For Calvin Harris At Coachella Six Weeks Ago
During Coachella weekend one, on April 15 through 17, Swift and her squad were shown galavanting all over the music festival, where Calvin Harris was headlining. Swift, still together with Harris' at the time, she posted this video to her Instagram account, which featured Swift and her best friends dancing to "We Found Love" by Rihanna (featuring Harris). Look how happy everyone looks! They look so supportive of Harris and look like they're having a fantastic time.
Then again... not all public shows of affection translate to relationship happiness. Sometimes the most adorable displays precede some of the most painful breakups — and act as something of a "last hurrah" for the couple that knows things are about to end (looking at you, Jen and Brad).
Swift also posted a photo from the same weekend in Coachella wearing a bomber jacket with a lightning graphic on it. That graphic is the same one used in the single cover for Harris' song, "This Is What You Came For (feat. Rihanna)," which proves that Harris and Swift were definitely still together six weeks ago, further complicating things for fans who just. Cant. Understand.
Swift And Harris' PDA-Heavy Appearance At The iHeartRadio Music Awards
Just a few days before Coachella on April 4, Swift and Harris made their cutest awards show appearance to date at the iHeartRadio Music Awards. The couple sat together at the show and dotingly watched each other perform and accept their awards. Swift even thanked Harris' during her acceptance speech for winning the award for Best Tour. "I had the most amazing person to come home to when the spotlight went out and when the crowds were all gone, so I want to thank my boyfriend Adam for that," Swift said in her speech (Adam Wiles is Harris' real name). Seriously? How could the couple break up?!?!
Maybe their show of affection was actually more awkward than everyone thinks — watching the two together, it's difficult to figure out whether or not that body language actually means "love" or just "...meh." Either way, it's probably moot now.
Their Vacation For Their One Year Anniversary
In early March, Swift and Harris took what looked like an amazing vacation for their one year anniversary. The vacation looked remote, tropical, and beautiful and it seemed like Swift and Harris agreed — because they wasted no time showing off photos from it on Instagram looking more in love than ever before. These pictures only prove how much of a surprise their break up comes to fans of the relationship, as they looked so completely in love.
Again though, maybe the gushing show of PDA was too much for the couple. Maybe it put too much stress on them to move quickly — and that's never healthy.
Harris' One Year Anniversary Gift To Swift
Swift took to her Instagram account, posting a photo of the super sweet present that Harris bought her for their anniversary. The gold locket is engraved with the date 3/6/2015 — the day that Harris and Swift got together. In the caption, Swift wrote "One year down!" — which means she was possibly looking forward to many more.
This one... I can't explain. It's too much.
My heart is broken and these pictures don't help it. If anything, this comes as a huge surprise for Swift and Harris fans who had assumed that everything was going great between the couple. Unfortunately, looks can be deceiving. While the couple was last spotted together on May 4, a lot can happen in a month. These photos only prove that fans don't know the full story and probably won't — until Taylor releases a new album.