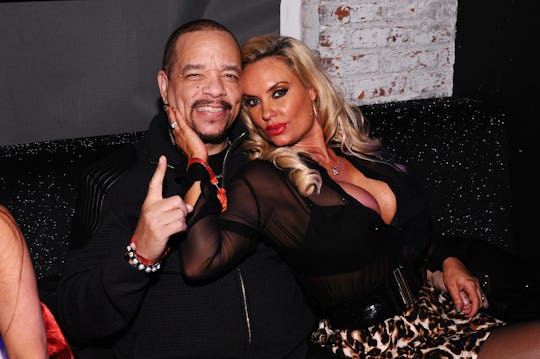 Ilya S. Savanok/Getty Images
Coco Austin's Baby Is Tweeting Up A Storm Already (You Know, As One-Day-Old Babies Do)
Ice-T and Coco are officially the proudest parents ever. But like, really. The couple has taken over social media in the last 24 hours with shots direct from the delivery room, and I for one can't pull my eyes away. And now there's this: Baby Chanel is even taking over Twitter. Her first tweet? "Ok! I'm the newest on Twitter! What's cracking world!! No haters allowed." Oh Chanel, you are already the most adorable thing to hit the Twitterverse.
Sure, there will always be haters on Twitter, but who can hate on her "fashionable" onesie posts? And her blasé attitude towards Dad? Her second tweet? "…chillin with Mom. I love her. Dads cool, too!" I mean... it's been pretty damn adorable so far.
Coco predicted little Chanel's arrival just hours before she came into the world yesterday, with a post on Instagram about how ready she was to see the baby "making an appearance." Then, not five minutes after giving birth, Coco was back on Instagram, making a plug about immediate skin on skin contact with her new bae:
Thanks so much for all the warm wishes today. I'm doing great! I had the best delivery! I pushed Chanel out in 3 tries! This was taken not 5 minutes after delivery, called skin to skin contact…better for a more bonding experience.
The outpouring of sheer pride from both parents is entirely relatable. And since both parents are celebs themselves, it makes sense that Chanel should head right into being a social celebrity, too. Chanel Nicole is the couple's first child, but the third for Ice-T who has two adult kids from previous relationships, according to Biography.com. But that doesn't make the excitement for this newbie any less, well, super exciting. The Internet has responded with the requisite enthusiasm deserved of what is, really, just the cutest little Internet celeb there is (for today at least).
She already has over 11,000 followers on Twitter which puts all of us to shame:
Fans are stoked for her arrival:
Chanel, if you ever need advice on how to deal with Twitter haters, please let me know. In the meantime, where'd you snag that sweet lookin' ribbon headband?
Image: Ilya S. Savenok/Getty Images