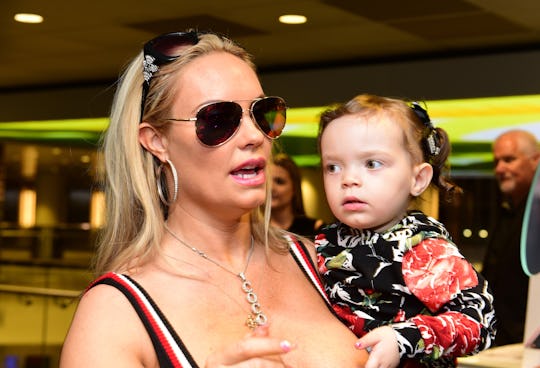 Lisa Lake/Getty Images Entertainment/Getty Images
Coco Austin's Sweet Photo With Her Daughter Sparked An Intense Debate About Breastfeeding
One of the most endearing qualities about model and actress Coco Austin is that she clearly *adores* being a mom. Fans can witness Austin's love for motherhood on Instagram — just about every photo on her feed is of her 2-and-a-half-year-old daughter, Chanel. Sadly, Austin's desire to share her parenting journey with fans makes her vulnerable to criticism, and it's a common occurrence for fans to lash out about her so-called mistakes as a mom. As for the latest controversy that has people fired up, it centers around a cute photo of Coco Austin and her daughter. Although the snap seems innocent at first glance, it's inspiring a heated debate about breastfeeding. Buckle up, folks.
A lot of celebrity parents make it a point to draw awareness to the beauty of breastfeeding. Austin — who has breastfed Chanel from the jump — is no exception to this awesome trend. "I follow some mother empowering pages here on Instagram and I love the inspiring pics they post showing the tenderness and love between a mother and child with or without nursing moments," Austin captioned a shot uploaded to Instagram on Tuesday of Chanel resting on her breasts, according to Instagram. "Love that I can be a part of that. @babychanelnicole has made me a more sensitive person now that I'm older."
Sweet, right? It's obvious Austin and Chanel share a deep bond.
Adorableness aside, it seems like some people are preoccupied with Austin's nursing habits. Following Austin's admission in the comments section that she still breastfeeds Chanel for "comfort," fans openly critiqued her decision.
"Disgusting. Breast feeding from birth to 1 year I understand but beyond that it becomes very strange," someone argued, according to Instagram. "Gonna have a 5 or 16 year old still feeding for comfort. #grossbro."
Another person advised:
Once it turns to comfort that's when it's time to wean her off. Breast feeding is mainly for the purpose of nutrition and passing on the immune antibodies to your baby and of course you also gain a connection with your baby and that's great but once the baby is old enough to have solid foods they no longer need the nutrition that breast milk offers so it's okay to wean them off.
In response to the above comment, another person chimed in: "Thank you for saying something. Medical school teaches this and at some point it does become unhealthy mentally for the baby. Do what you want but y'all gonna end up with a 13 year old still wanting to nurse. Lol."
Others took jabs at Austin for her so-called inappropriateness.
"You really need a separate nursing page one minute people are looking at sexual a*s and tit poses," one person penned. "Then another minute you got these same people watching you breast feed your kid. Your kids face shouldn't be on the same wall with those type of pictures."
"It's a tender moment but what about the previous picture coco posted of herself showing all her butt crack?" a fan asked. "She enjoys putting her sexuality out there."
Of course, there's nothing sexual about Austin's post. Secondly, Austin's sexuality doesn't compromise her parenting, and it doesn't jeopardize Chanel's well-being. Austin can express her sexuality and be a mom at the same time, haters.
As for the comment that breastfeeding is strictly for nutritional purposes, I have a feeling many parents will disagree with that sentiment. Not to mention, a study published in Pediatrics found that breastfeeding is an effective tool in lessening a child's pain. So, if your child has a minor accident, breastfeeding is more soothing than giving them a pacifier, for instance. This finding proves that there is more to breastfeeding than just nutrients. "Babies go to the breast for many reasons — they're hungry or thirsty, they're tired, they're scared or hurt, they're feeling overwhelmed," lactation consultant Fleur Bickford told Today's Parent. "All of these are equally valid reasons for a baby to nurse."
Luckily, other fans have Austin's back in this debate.
"Priceless bond between mommy and child! Her mommy's milk is the best gift a mother can give to her child," someone else said. "Benefits continue for the child and mommy as they continue to grow. Thank you for normalizing breastfeeding."
"This is so sweet, @coco," a fan gushed. "These are the moments you won't ever get back. Still nursing my 21 month old too and it is helping us through teething, sickness and provides comfort like no other. Love you!"
Another person chimed in:
You are such an inspiration to Moms everywhere. As a Grandma, I'm thankful for you and other celebrity moms sharing their breastfeeding experiences publicly. I wish there had been these role models and resources when I breastfed and was shamed 30 and 40 years ago. Kudos!
And on the topic of Austin's sexuality, a commenter wrote:
Part of what makes her empowering is she is both a mother and owns her sexuality. There is a stigma that once a woman has children her body is not her own. A woman has the right to choose when and if her body is sexualized and no one should be shamed for that.
The main takeaway here is that there is no wrong or right way to feed or comfort your child. Each parent can decide what's best for their kid, and no one — including Austin — deserves to face criticism for these personal choices. To each their own, right?