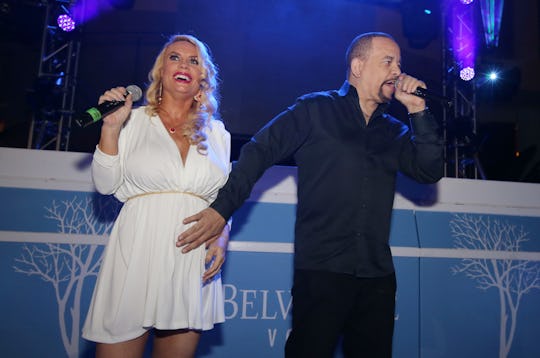 Coco Defends Her Sexy Anniversary Outfit, Because Mothers Don't Need Anyone's Permission To Feel Sexy
Last week, actress and model Coco Austin celebrated her 15th wedding anniversary with actor and rapper Ice-T, and unfortunately, Coco had to defend her sexy anniversary outfit against haters who suggested she shouldn't be dressing so sexy because she's a new mom. Coco, 36, had her daughter, Chanel, in November. The couple's status as new parents certainly didn't stop Ice-T from showing off a photo of Coco, a once-Playboy model, wearing a tight, black dress featuring plenty of cleavage.
The photo, which Ice-T posted last week on Twitter, shows the married couple posing happily during their anniversary dinner. "It's New Years Eve & Coco and my 15th Anniversary," the caption reads. "Happy 2016!!!" Coco included the same photo on her Instagram account, along with a sweet caption reading "It was me and Ice's 15th year anniversary on New Years Eve.. This was our best year yet producing little Chanel. Feeling blessed." What an insanely cute couple, right? Too bad some Instagram users had to ruin the happy moment with negative comments about Coco's dress.
"I am sure motherhood will come with an appropriate wardrobe," one Instagram hater said in a comment. Another Instagram troll, suefranlore, told Coco, "Dress respectfully like a mother should...would you want your daughter dressed like this? Trampish! You're a mom now-set a graceful example!," according to SheKnows.
Coco did not sit back and let the insults fly, though. She immediately took to Twitter. "I keep reading these stupid articles & ppl commenting that when u become a mother u have to stop dressing sexy.. Oh please!" Coco wrote. "Me dressing the way I want to will not interfere with me raising my child."
Seems like a pretty obvious point, but unfortunately, Coco is by no means the first female celebrity to get flak for dressing sexy soon after having a baby. When reality television star Kim Kardashian posed nude for Paper soon after becoming a mother, the internet practically went up in flames.
Happily, though, criticism of Coco's outfit was drowned out by everyone cheering her on, including @bowlesco, who wrote, "don't worry about the haters... you are fantabulous mom!"
Another Tweeter, @MissouriMomma17, had a similar message, along with an amazing new verb:
And then there's this Tweeter, who's keeping it real with this simple, mature message:
Amen to that.
Image: Tom Briglia/WireImage/Getty Images