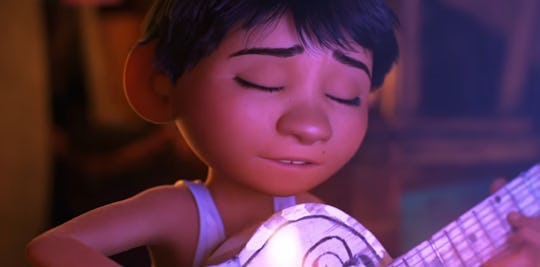 Disney/YouTube
'Coco' Is Coming To Netflix In May, So Get Ready To Seize Your Tissues
With May just around the corner, Netflix has now revealed what's coming to the streaming site in May. And while there are a number of things to look forward to on the list, you may be most excited about a certain Disney Pixar movie that is finally coming to a computer or TV near you. That's right, my friends — Coco is coming to Netflix in May, and you'll probably want to stock up on tissues in preparation.
Although May officially begins next week, you'll still have a bit of a wait ahead of you before you can actually stream Coco. The film won't hit Netflix until the very last week of May, on Tuesday, May 29. Though the wait may feel long — especially if you haven't seen the movie yet — that's still not too far away, and the time will surely fly.
If you're unfamiliar with the Oscar-winning film, it's a definite must-watch. The story follows Miguel, an aspiring musician, who struggles with his family's ancestral ban on music and ends up accidentally going to the Land of the Dead where he finds his great-great-grandfather, a legendary singer. Naturally, a fun adventure ensues, but while the movie will definitely make you laugh, be warned it will also make you cry (like a lot), as Miguel desperately tries to make his way back home to be with his family, particularly his great-great-grandmother, Coco.
The film praises Mexican history and folklore, mainly that of the tradition of El Día de los Mueros, or the Day of the Dead. During the Oscars, co-director of the film, Adrian Molina, made sure to thank the people of Mexico for the contribution to the film. "Coco would not exist without your endlessly beautiful culture and traditions," he said. "With Coco we tried to take a step forward toward a world where all children can see characters in movies that look and talk and live like they do. Marginalized people deserve to feel like they belong. Representation matters."
Co-director Lee Unkrich also told the press, according to Variety, that the current political climate, specifically the election of President Donald Trump, brought "an urgency to the flimmaking process." The makers of Coco wanted to counter the rhetoric by Trump about Mexicans and "give Mexican and Mexican American kids something to look up to." I'm sure everyone can agree that they were quite successful in that goal.
Along with it's rich history, the film also had an incredible soundtrack, which includes the Oscar-winning song "Remember Me" written by husband-wife duo Robert Lopez and Kristen Anderson-Lopez. If their names don't sound familiar, you're probably at least familiar with their other Oscar-winning song, "Let It Go," from Frozen.
Obviously, Coco had an incredible team behind it and it should be no surprise that it proved to be such an amazing success. Between the storytelling, the music, and the gorgeous art that Pixar is known for, Coco is a film you could probably watch again and again. And now that it's on its way to Netflix, you'll be able to do just that. So prepare accordingly because once Coco begins streaming you'll probably want to do nothing else but watch it, so clear your calendar from now so no pesky distractions will get in the way of your viewing. And if you've never seen it, now's your chance.
If you just can't wait until May 29, you can always purchase Coco on iTunes, Amazon Video, or grab yourself a DVD or Blu-ray copy. However, if you've waited this long to see it, what's a couple more weeks, right? No matter how you watch Coco, just make sure to seize your moment and check it out.
Check out Romper's new video series, Romper's Doula Diaries:
Watch full episodes of Romper's Doula Diaries on Facebook Watch.