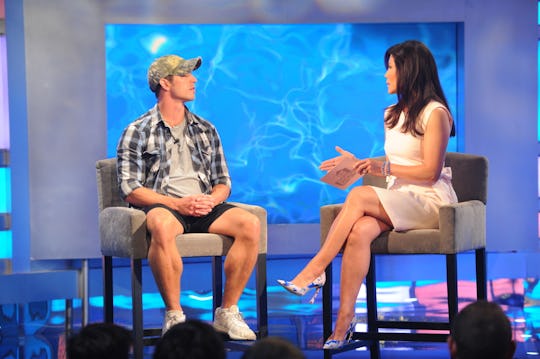 Johnny Vy/CBS
Find Out Who Became America's Favorite Houseguest On 'Big Brother 19'
It's Big Brother finale night and while the main goal of the show is to win the grand prize of $500,000, many houseguests also strive to win America's Favorite Houseguest. Any of the houseguests were eligible to be chosen by America to win $25,000, even if they were only in the house for a few days, like poor Cameron. So who was the lucky winner this year? Cody is America's Favorite Houseguest on Big Brother 19.
Prior to the announcement, fans were pretty confident about who would win America's Favorite Houseguest. Although Paul was able to successfully manipulate most of the houseguests to do his will, there was one duo who wouldn't fall in line. That was showmance Jessica and Cody. Though the pair certainly made mistakes over the course of the season, fans still rallied behind them, especially when the house turned on them.
Thus, there was a strong campaign for one of them to win America's Favorite Hosueguest. However, many fans worried that they'd accidentally split the votes, leaving the door wide open for some one else to win. To make things easier for fans, Jessica, who was evicted right before jury, started campaigning for Cody, telling her fans to use their votes for Cody instead of her. It's clear her plan worked.
Jessica, unfortunately, didn't make it into the top three for AFP, but again, that was mostly because of her own campaigning for Cody rather than herself. Instead, the top three were Cody, Jason, and Kevin. Additionally, host Julie Chen also informed everyone that this AFP vote got the most votes in Big Brother history. It's clear people really wanted their fave to win. Or, they wanted to make it clear to the other houseguests that while they may not have liked Jessica and Cody, most of America did.
Whatever the reasoning, the BB houseguests were definitely shocked to hear that Cody had won, including Cody himself. Cody is definitely not known for his emotions or for being a prankster in the house, like most of the past AFP winners. Instead, Cody had a tough exterior, with only a sweet spot for Jessica and his daughter, Paisley. Even so, it was probably his unwillingness to fall for Paul's charm that made him so attractive to many viewers at home.
Although clearly most fans are happy about America's Favorite Houseguest, there are some who disagree with the choice. Similarly, there are many who aren't happy with the actual winner of the season either. The final three were Josh, Christmas, and Paul. In the end, Josh was able to snag the final Head of Household and decided to take Paul to final two instead of his ride or die Christmas. Many fans were stressed this was the wrong way to go, while others were happy because they believed Paul would get the win.
However, in the end it was Josh who won it all. The jury was very split and once again, just like when Paul lost to Nicole in Big Brother 18, the vote came down to one vote: Cody's vote to be exact. Although he'd previously said he believed Paul deserved to win for how he successfully manipulated all the houseguests, in the end he still decided to vote for Josh. Many fans blame a bitter jury for Paul's loss and they're not totally wrong.
It was clear Alex was very bitter about Paul's betrayal, and despite his attempts to answer the jury's questions and try to sway their votes, no matter what he said, Alex (along with Jason, Mark, and Elena), were not impressed. So they gave their votes to Josh. Whether or not he really deserved the win honestly doesn't matter at this point. At the end of the day, he still got the $500,000. Congrats to Josh and Cody!
Watch Romper's new video series, Romper's Doula Diaries:
Check out the entire Romper's Doula Diaries series and other videos on Facebook and the Bustle app across Apple TV, Roku, and Amazon Fire TV.