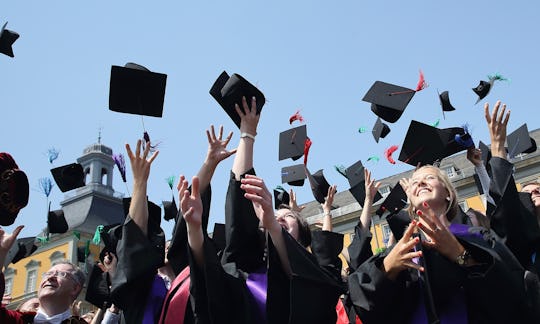 Andreas Rentz/Getty Images News/Getty Images
College Grad Writes Emotional Letter To Her Son, & Reading It Requires Tissues
Getting through college is no easy feat. Most students have to deal with tough course loads and competing deadlines, while others have to manage it all while working, helping with family commitments, or even raising a family of their own. That's all part of what makes getting to graduation day such a huge accomplishment — and a moment mixed with elation, relief, and just plain gratitude. For one North Carolina mom, the big day would not have been complete without giving a heartfelt thank you to the little guy who was with her every step of the way: her son. A warning before reading this emotional letter from a college grad to her son: this story might require more than a few tissues.
On May 14, Jelina Latrice Sheppard graduated cum laude with her bachelor's degree. According to her Facebook account, Sheppard attended the North Carolina Agricultural and Technical State University, a historically black university located in Greensboro, North Carolina. And, like many of the 1,200 N.C. A&T students who crossed the university's commencement stage this past weekend, Sheppard took a minute to snap a photo for Instagram. But Sheppard's photo showed her giving an extra tight hug to her young son, Karter, along with an emotional note thanking him for his support.
"For all those nights you had to fall asleep in the library," Sheppard wrote in her Instagram caption. "For all those times you had to watch cartoons alone because I needed to do homework, for the early mornings in daycare because I needed to be in class to being the last one there because I had to work, most importantly for the moments of separation because I needed to get this done, Thank you." Sheppar didn't immediately respond to Romper's request for comment.
According to the Lumina Foundation's Institute for Women's Policy Research, more than 4.8 million undergraduate students are raising dependent children. That's around 26 percent of the college population overall, according to the most recent data. And those students tend to be women: that same Lumina report conducted in 2014 found that 71 percent of student parents are women, and 43 percent of all student parents are single women.
For these parents, the challenges of getting a college education can be overwhelming. Not only do these moms have to juggle studying and homework, they do it while meeting the 24-7 demands of motherhood — a difficult balancing act that could easily lead some to give up entirely.
Sheppard certainly had much to be proud of. According to the university's website, in order to graduate with that distinction, a student must maintain a cumulative grade point average of 3.25 to 3.49 on a 4-point scale. That the young mom was able to maintain her grades while raising her son is to be applauded. In her Instagram post, Sheppard said that her little boy was her major motivation for excelling in her classes:
You are the motivation for my heart to keep beating. I love you more than words can say. I finished because you needed to see me do it. I'm not strong because I want to be, I'm strong because I'm your first example. We've seen a lot and overcame a lot more. To infinity and beyond, a mother's greatest love. #iGraduated
Without a doubt, Karter will treasure his mom's hard work — and her touching tribute to him — for years to come.