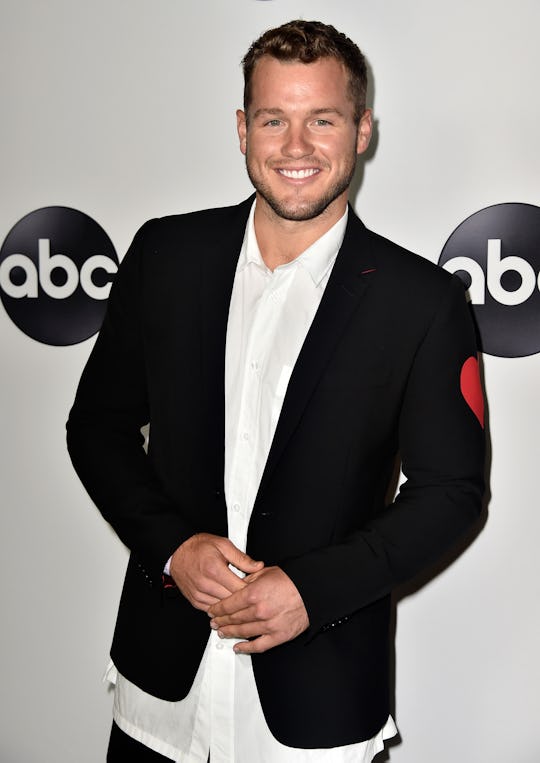 Frazer Harrison/Getty Images Entertainment/Getty Images
Colton's Official Tagline For 'The Bachelor' Is Very *Suggestive*
It's an excellent day for #BachelorNation, folks. That's because the release of Colton Underwood's official tagline for The Bachelor's new season is finally here. Not only is the official promo exciting, but it's also very suggestive. *Wink wink.*
For those who aren't familiar with The Bachelor, here's a refresher about Underwood's background. Underwood starred on Season 14 of The Bachelorette, when Becca Kufrin was the lead. Many fans initially championed the former NFL player due to his philanthropic efforts running The Colton Underwood Foundation, an organization dedicated to helping people diagnosed with cystic fibrosis.
Additionally, Underwood has always maintained a respectful attitude towards his past relationship with Olympic gymnast Aly Raisman, who he separated from in August 2017, according to The Boston Globe. When asked why he didn't bring up Raisman during his time on The Bachelorette, he told Us Weekly:
To be very candid about it, she's going through enough right now. She doesn't deserve to be in this at all. I have so much love and respect for Aly and the voice that she is and the role model that she is for every young woman out there.
But then some viewers had a change of heart about Underwood when it came to light that he had been chatting up Kufrin's friend and former Bachelor castmate, Tia Booth, prior to filming, as E! News reported. Oops.
Despite Underwood's controversial standing in #BachelorNation nowadays, the execs at ABC named him as the next Bachelor in September. And by the looks of it, the network plans to drive home the fact that Underwood is a virgin.
"What does he have to lose," the Season 23 poster featuring Underwood reads, according to Twitter. Why, ABC? WHY.
Another thing I want to draw attention to here is the American Beauty vibes going on with this poster. One of the film's iconic scenes features actress Mena Suvari wading in a pool of red roses, a note of interest because her character is revealed to be a virgin at the end of the movie. Given the virgin and roses theme in the movie, I can't help but wonder if someone in ABC's art department is having a little fun here with the roses backdrop. Or am I reading too much into this? Probably so.
Either way, people have lots of thoughts about this poster and Underwood's tagline.
"Tasteless tagline, boring immature Bachelor," someone penned on Twitter. "Jason, Blake, Jordan, Wills...SO many better choices!"
"Hasn't even started yet and I'm already bored," another person added.
One person commented: "Not really even trying to be subtle with that tagline @BachelorABC ...haha!"
Based off of the promo, it looks like the series plans to remind viewers fairly often that Underwood is a virgin. There's a chance, however, that Underwood's status could change as the season progresses. "The possibility of him losing his virginity on the show is very likely," a supposed insider told TMZ.
It goes without saying that Underwood isn't everybody's cup of tea. But if you're down for the inevitable virgin jokes and the will-he-or-won't-he storyline, it sounds like Season 23 is for you.