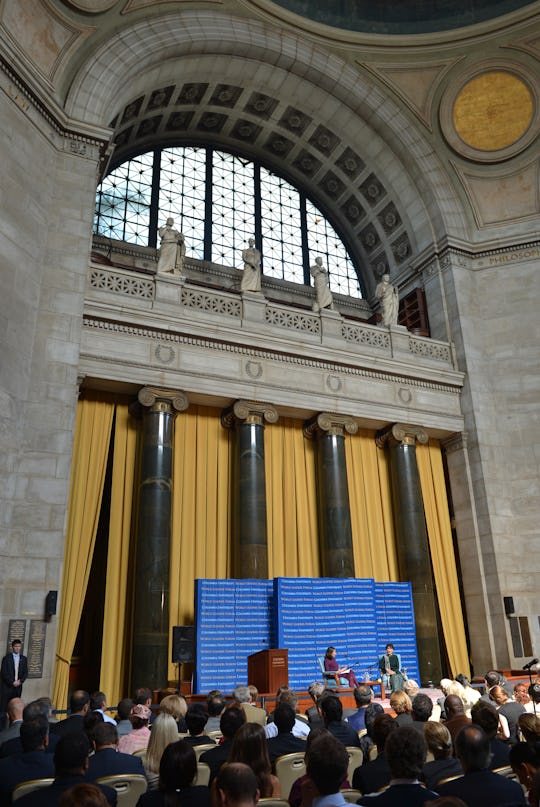 STAN HONDA/AFP/Getty Images
Columbia University Suspends Wrestling Season After Racist Texts & Sends A Message
On Monday, The New York Times reported that Columbia University suspended its wrestling season after reportedly racist, misogynistic, and homophobic texts were found to be shared between team members on GroupMe, a private messaging app. The messages are currently under investigation by university officials, and the wrestling team's season has been placed on hold until further notice, according to The Times. In a statement, the university said that "Columbia University has zero tolerance in its athletics programs for the group messaging and texts sent by several members of the men's varsity wrestling team. They are appalling, at odds with the core values of the University, violate team guidelines, and have no place in our community." University officials reacted quickly after Bwog, a student-run Columbia news website, published images of the texts in question.
According to Bwog, the relevant texts were sent by members of the wrestling team over a time period beginning three years ago, up until just a few days ago. The GroupMe texting group was reportedly for members of the class of 2017's wrestling team. Bwog summarized the troubling texts, stating that "the men in the group message mock women's appearances, make jokes about rape, use homophobic and racist slurs, and engage in other distasteful interactions."
The Bwog staff published several screenshots of selected text messages, which include frequent use of the n-word, photographs of girls accompanied by lewd conversations about their appearance, and one assessment that "Columbia bitches feel entitled to something when in reality they are all ugly socially awkward c-nts." The desire to compare Columbia's female students unfavorably with female students from state schools was seemingly pervasive. One text thread notes that while Columbia students are "feminist bitches," girls at other schools are hotter and all can easily be ranked as "an 8."
Reportedly, Bwog received the messages from an anonymous source, and chose not to publish many of the screenshots because "they contained targeted insults against specific students," according to The Times. James Fast, Bwog's publisher and a sophomore at Columbia, told The Times that their anonymous source "felt this conversation had no longer become entertainment."
These unfortunate revelations about Columbia's wrestling team came just two weeks after Harvard University's men's soccer team's season was canceled upon the discovery that the team's members circulated a "scouting report" that rated freshman members of the women's soccer team based on their perceived attractiveness.
And on Friday, news broke that The University of Pennsylvania was cooperating with the FBI on a hate crime investigation after a group of students were added to a GroupMe chat group filled with racist commentary and talk about lynchings. Reportedly, the group's name is "N-word Lynching," and one of the group members' user names is "Daddy Trump." On Friday, just three days after former Miss Universe co-owner Donald Trump was elected president of the United States, every black freshman at the university was inexplicably added to the group, which reportedly has been linked to an account in Oklahoma.
This latest news from Columbia University is a troubling addition to the slew of reports about racist, sexist incidences in the wake of Trump's election.