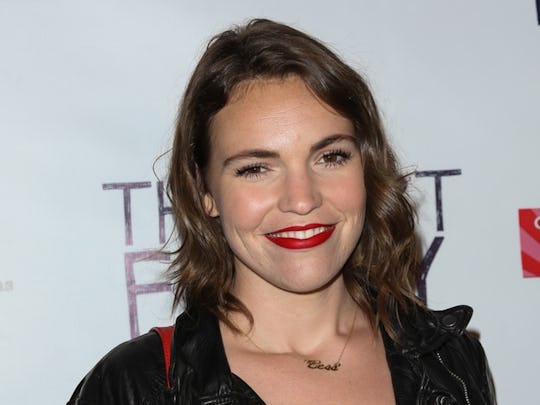 Paul Archuleta/Film Magic/Getty Images
Comedian Beth Stelling Opens Up About Abusive Relationship On Instagram & The Internet Reacted In The Best Way
After initially agreeing to keep the details private, comedian Beth Stelling revealed she'd been abused by her ex-boyfriend in a post on Instagram Monday, according to Jezebel. In the post, Stelling shared four photos, three of which showed the bruises she allegedly suffered at the hands of her ex, who went unnamed in the post. She accompanied the photo with a lengthy caption, saying that she'd been "verbally, physically abused and raped" by her boyfriend at the time, and that she stayed with him for two months before breaking it off. She wrote about being afraid to admit what had happened for fear of backlash, but that she realized she needed to be open about it for her own well-being:
Same girl in all of these photos (me). I've had an amazing year and you've seen the highlights here, so these photos are an uncommon thing to share but not an uncommon issue… There are many reasons not to make an abusive relationship public, mostly fear. Scared of what people will think, scared it makes me look weak or unprofessional.
She continued that, though she doesn't want to press charges against her ex, she doesn't think she should stay silent about the alleged abuse:
I don't want revenge or to hurt him now, but it's unhealthy to keep this inside because my stand-up is pulled directly from my life. It's how I make my living. My personal is my professional. That is how I've always been; I make dark, funny. So now I'm allowing this to be part of my story.
As scary as it must have been for her to post something so personal and with the potential for huge consequences to her career, the reaction from social media has been incredibly positive and supportive. Stelling's original Instagram post has received more than 20k likes so far, and more than 2300 comments. And on Twitter, Stelling is being overwhelmingly praised for her bravery, and also for the impact her words will likely have on others who are keeping their own abusive relationships a secret:
In her original post, Stelling explained that part of the reason she agreed to keep from talking about it was because her ex is also a comedian in L.A., and speaking about it for her own healing would inevitably "out" him as allegedly abusive. And even though the story has gone viral, Stelling has so far continued to protect his identity.
But one person who isn't staying mum? Stelling's current boyfriend, comedian Sam Morrill. Morrill posted a comment to his Instagram page from former heavyweight champion Lennox Lewis, who wanted Stelling to "just point him out!" Morrill responded, writing, "His name is Cale Hartmann. He disappeared from the Internet, but you might still be able to get him with your reach." Romper could not reach Hartmann for comment.
Hartmann has deleted his Twitter account and the rest of his social media presence, which is no surprise, given the anger that many will naturally feel towards him now that he has been named at Stelling's alleged abuser. But despite the internet's reaction to Stelling's story, it still is hers to tell, and she has been explicit in her wish to not let her past define her:
It's not my only story, so please don't let it be. If you live in L.A., you've already started to hear my jokes about this and I ask you to have the courage to listen and accept it because I'm trying.
Her candor does seem to be helping others come forward though. She claimed that one of her ex's ex-girlfriends reached out to her:
An ex-girlfriend of this ex-boyfriend came to me and shared that she experienced the same fate. Then there was another and another (men and women) who shared other injustices at his hand that shattered my belief that I was an exception. I am not alone; unfortunately I'm in a line of smart, funny women who experienced this from the same man in our L.A. comedy community.
Images: Paul Archuleta/Film Magic/Getty Images; Beth Stelling/Instagram