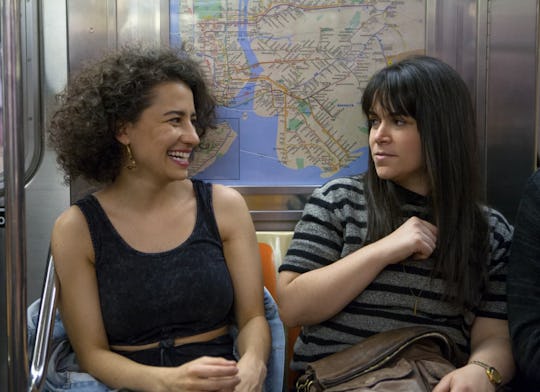 Comedy Central Renews 'Broad City' For 2 More Seasons, Because We Need More Abbi & Ilana
Abbi Jacobson and Ilana Glazer are mining their friendship for comic gold. And both their friendship and their comedy is dope AF, because Comedy Central renewed Broad City for two more seasons. The real life BFFs and the women behind the madness, mayhem, merriment, and minutiae that go into the landmark series aren't going anywhere anytime soon. Season 3 of Broad City airs Feb. 17, and the ladies just got two more years of job security, which, in this economy, is everything.
Jacobson and Glazer are kicking ass by showing the world how messy and miraculous being a woman can be. I for one, will be dialing in for my Domino's to celebrate the news.
Why do fans love Broad City so much? For one, it's hysterical to watch the zany adventures of two New York Jewish girls who pretty much remind me of everyone I grew up with. But the show's reach is larger than their own experience (though look at Seinfeld, that's a pretty limited experience, wouldn't you say, and it's the most popular TV show on the books). At a time when millennial women are fed up with hearing about what Hollywood male producers think the lives of girls look, sound, and feel like, fans want to hear it from Abbi and Ilana. And can you blame them?
I mean, what would happen if you don't listen to these gals?
From hemorrhoids to public hair debacles, dancing like everybody's watching, strap-ons, unique weed stash spots, dishing about dicks, and dealing with everything life in New York has to offer (without the Monolos and a bar tab that could repay my student loans — hey, I love you Carrie Bradshaw and company, but this in 2015, life is looking a little less airbrushed) the Broad City women are setting new standards of womanhood to laugh at (and with) on TV. And that's a great thing. There's nothing I love more than a DIY success story, especially from the mouths of fellow frizzy-haired gals.
Plus, Comedy Central's renewal deal doesn't just guarantee fans two more seasons of Broad City, but it also means another Galzer production will happen: a mini-series starring Glazer called Time Traveling Bong. Broad City co-executive producer Paul Downs who plays Trey on Broad City, The Hollywood Reporter announced, will be part of a duo who gets so high that time travel ensues. This special airs, aptly on April 20 (get it, that's 4-20).
So, nomo fomo. Now that you have the news, set those DVRs people.
Images: Linda Kallerus/Comedy Central; Giphy (3)