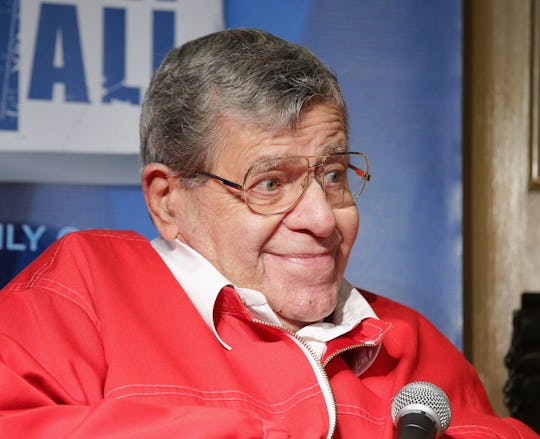 Andrew Toth/Getty Images Entertainment/Getty Images
Comedy Legend Jerry Lewis Has Died At 91
One of comedy's greatest legends has passed. According to Variety, Jerry Lewis died at his home on Sunday morning. He was 91. Lewis' agent confirmed the news of his death to Variety, although the exact cause of Lewis' passing is still unclear. However, Lewis had dealt with a wide range of health issues for the later part of his life, though he had continued to perform stand-up comedy in Las Vegas up until 2016. As The Hollywood Reporter noted, Lewis suffered from quite a lot of health concerns:
Lewis' health ailments over the years included open-heart surgery in 1983, surgery for prostate cancer in 1992, treatment for his dependence on prescription drugs in 2003, a heart attack in 2006 and a long bout with pulmonary fibrosis, a chronic lung disease for which he took Prednisone, causing his face and body to balloon.
Most fans of Lewis will remember him for his roles in The Bellboy and The Nutty Professor, which he starred in back in the 1960s. Unfortunately, Lewis' name had also become synonymous with quite a bit of controversy for the past couple of decades, as his performances were rife with racist and homophobic comments. Nevertheless, Lewis' passing marks a sad day in the entertainment world.
In addition to his successful film career, Lewis also partnered with singer and comedian Dean Martin during the 1950s and the two became one of America's most beloved performing duos. However, it was not to be, as the pair ended their run together due to mutual differences.
While Lewis suffered from numerous ailments, one of his biggest passions was hosting his yearly telethon raising money for Muscular Dystrophy, which he continued to run until 2010, according to People. Lewis was also the father to six sons and one daughter, whom he shared with wives Patti Palmer and SanDee Pitnick. Lewis and Pitnick married in 1983 and have remained together since.
As for accolades, Lewis certainly wasn't lacking. Over the course of his career, Lewis received the American Comedy Awards Lifetime Achievement Award, the Los Angeles Film Critics Association's Career Achievement Award, and the Ellis Island Medal of Honor just to name a few, as People reported.
Truly, the passing of Lewis is a sad day in Hollywood, despite his questionable remarks. Hopefully, the tradition of his comedy and charitable pursuits will live on, and Lewis' surviving family members will be able to find peace and comfort in the knowledge that Lewis has left an incredible legacy behind.