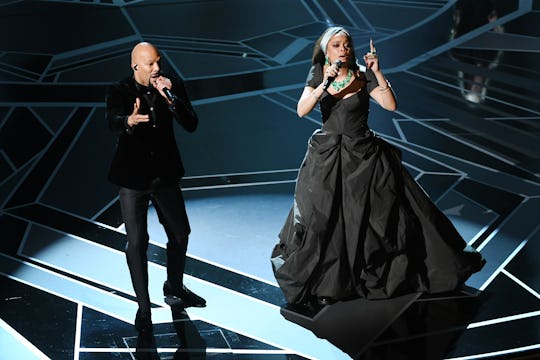 Kevin Winter/Getty Images Entertainment/Getty Images
Common & Andra Day's Oscars Performance Had A Very Powerful Message
At the 90th Academy Awards, there were many beautiful and memorable performances for Best Original Song throughout the night. However, Common and Andra Day's Oscars performance was one of the standouts of the evening, and it might just move you to tears. They took to the stage to perform "Stand Up for Something" from Marshall, and they embraced the song's theme to the fullest by honoring ten people who do incredibly important work in the world.
Those people were all activists: Alice Brown Otter from the Standing Rock Youth Council, Bana Alabed (an author and Syrian refugee), Bryan Stevensen (Equal Justice Initiative), Cecile Richards (Planned Parenthood Action Fund), Dolores Huerta (the Dolores Huerta Foundation and United Farm Workers of America), Janet Mock (#GirlsLikeUs), José Andrés (ThinkFoodGroup), Nicole Hockley (Sandy Hook Promise), Patrisse Cullors (Black Lives Matter), and Tarana Burke (#MeToo). Having them on stage behind Common and Day, each in their own spotlight, not only enhanced the song but honored the efforts they have made in their respective fields.
That was the goal, according to both Common and Day, who spoke to Variety about their plans for the performance before the Academy Awards aired. And it's clear that they accomplished what they set out to do.
"I thought, 'What if we got people who really do the work?'" Common said, according to the interview with Variety. "People who are true activists out in the world and on the front line. People whose lives, whether by circumstance, have become prime movers for change." Day shared the sentiment, but elaborated:
"What we hoped to convey is the essence of this song. These are all people who have fought through their own personal pain to make things better for themselves and for others. The other message is [to] have people from so many different walks of life — people who have tons of money and own restaurants (Andres) and you have a young girl who's a displaced refugee (Alabed). [...] My prayer is that seeing these people and what they do is that catalyst to find the courage to stand up and to serve. I'm of the opinion that, as people, in our essence, we were designed to serve each other and society at large."
Common also discussed how useful the Oscars could be as a platform for political commentary, because so many "people from all walks of life" would be tuning in to watch. That allowed their message to be heard by millions upon millions, on top of giving recognition to the ten activists sharing the stage. It was hugely impactful to see them standing there, their mere presence echoing what Common and Day were rapping and singing about, respectively.
The performance seemed to resonate with users on Twitter as well, who had nothing but praise to heap on Common and Day. It was the perfect storm of emotion and sentiment, because both performers imbued "Stand Up for Something" with passion while keeping their message front and center the entire time. It was easy to get swept up in the song, and no surprise that viewers at home responded to it so positively.
At the 90th Annual Academy Awards, Common and Day provided a powerful rendition of their song for Marshall. Not only did they do the song justice in their performance and staging (those spotlights let you know just who to keep focusing on), but they also amplified its themes while paying homage to ten people who deserved to be recognized. It was one of the moments of the night that absolutely couldn't be missed, and will definitely stick with viewers in the days to come.
Check out Romper's new video series, Romper's Doula Diaries:
Watch full episodes of Romper's Doula Diaries on Facebook Watch.