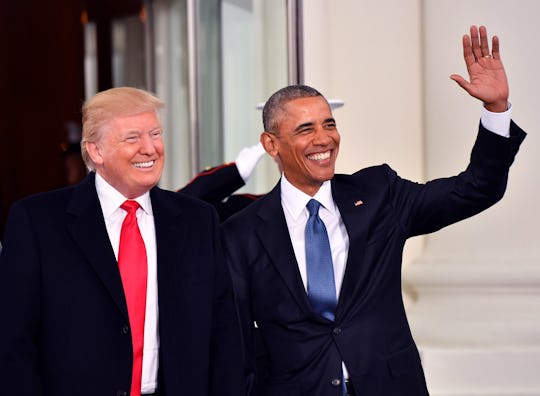 Pool/Getty Images News/Getty Images
Twitter is Comparing Obama's & Trump's Christmas Tweets & The Difference Is Startling
It's difficult to deny how different Donald Trump and Barack Obama really are, regardless of which camp you may fall under. From the way they speak, to their political ideals, to their diplomacy (or lack thereof,) our 44th and 45th presidents are undoubtedly polar opposites in many ways — and their Christmastime social media posts are no exception. In fact, Twitter is comparing Obama's and Trump's Christmas tweets and the difference is startling.
On Christmas Eve, President Trump took credit for the fact that people are proud to say, "Merry Christmas" again. (Because apparently, that was outlawed during the last holiday season and he is a "put the Christ back in Christmas" martyr.) "People are proud to be saying Merry Christmas again. I am proud to have led the charge against the assault of our cherished and beautiful phrase. MERRY CHRISTMAS!!!!!" our leader tweeted on Dec. 24. Trump also took to his favorite social media outlet to express his usual views on "fake news," as well as commentary on how much he's loved and supported. "The Fake News refuses to talk about how Big and how Strong our BASE is," Trump wrote. "They show Fake Polls just like they report Fake News. Despite only negative reporting, we are doing well - nobody is going to beat us. MAKE AMERICA GREAT AGAIN!"
Disturbingly, Trump also retweeted a meme that was sent to him by a Twitter follower. It featured what appears to be a blood smattering with the CNN logo on the bottom of his shoe. How festive.
Meanwhile, former President Barack Obama shared a family portrait and an inclusive holiday message. "On behalf of the Obama family, Merry Christmas! We wish you joy and peace this holiday season," he tweeted. Only 20 minutes after the tweet was posted, it had already attracted 86,000 likes, TIME reported. (And the accompanying Facebook post had 100,000.) Now, the post has more than 1 million likes on Twitter.
To be fair, Trump also tweeted on Christmas morning — and it's pretty presidential, to boot. President Donald Trump and First Lady Melania Trump wished "America and the entire world" a merry Christmas in the nearly two-minute video. "In the season of joy, we spend time with our families, we renew the bonds of love and goodwill between our citizens and most importantly, we celebrate the miracle of Christmas," Trump says in the holiday message. "For Christians, we remember the story of Jesus, Mary and Joseph that began more than 2,000 years ago." This tweet has more than 183,000 likes so far.
Twitter was quick to point out the difference — in both content and in response — between Obama's and Trump's Christmastime tweets. "In less than two hours, Obama's 'Merry Christmas' tweet got more likes than Donald Trump's 'I'm bringing Christmas back' tweet PLUS his two 'Merry Christmas tweets COMBINED!" Tony Posnanski, author of The Good Men Project, tweeted. Later on Christmas day, he updated the count, announcing that the likes had officially surpassed those of any Trump tweet.
Another Twitter user — Helen Kennedy, a political reporter who formerly worked for the NY Daily News and Boston Herald, according to Indy100.com — shared a side-by-side shot of a Christmas Eve tweet by Obama in 2013 when he was still president and Trump this year as president.
Kennedy also posted a then-and-now comparison of a tweet from Michelle Obama on Christmas and Melania Trump. Michelle had tweeted, "May your home be filled with peace and joy. Merry Christmas!" along with a photo of her family. Melania, however, posted a selfie with a filter of a Santa hat, along with the hashtag, "MerryChristmas" and festive emojis.
You know, I'm not surprised to see Trump's typical ranting tweets on Christmas Eve, followed by a heartwarming message on Christmas Day. I'm all too familiar with the Jekyll/Hyde nature of what "presidential" Trump claims and what Trump the person says; I'm desensitized at this point. What baffles me, though, is the fact that Trump claims Obama never posted Christmas messages when he was president, despite the clear evidence that he has. Every single year. Twitter was quick to point out this reality, too, reported HuffPost.
"There was never assault on saying 'Merry Christmas,' you delusional narcissist," sums it up perfectly. And the icing on the cake? The reaction to Obama's Christmas post completely blew Trump's out of the water.