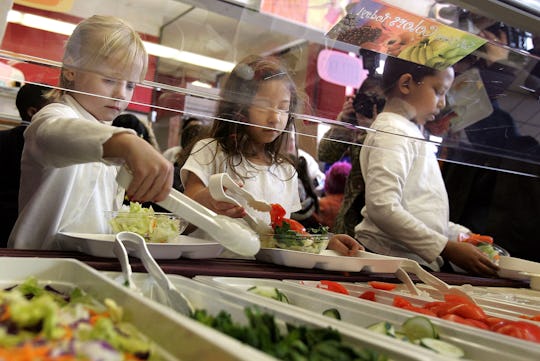 Tim Boyle/Getty Images News/Getty Images
HR 610 Will Affect Kids' Nutrition If It Passes
Parents everywhere have been worried about how their kids' education may be changed ever since Betsy DeVos was named education secretary. DeVos has long advocated for federal money to be used to invest in charter schools, so when H.R. 610 was proposed in January to establish an education voucher program, it wasn't surprising. But there's another part of the bill that many may not have noticed. Congress's H.R. 610 bill would control kids' nutrition, and it's really scary.
H.R. 610 aims to repeal the nutritional standards of school meals the Obama administration worked to implement with the Healthy, Hunger-Free Kids Act. Current standards require schools to make sure kids have more fruits, veggies, whole grains, and low-fat or fat free milk. The standards also ensured lunches served in elementary schools don't exceed 650 calories, while lunches served in high schools don't exceed 850 calories, according to the Dept. of Agriculture. These changes also aimed to make sure kids consumed less sodium, saturated fat, and trans fat.
The bill is sponsored by Iowa Congressman Steve King, who has tried to repeal the Department of Agriculture's school meal standards before. King called the bill the "No Kid Hungry Act" because he believes the current standards don't feed kids enough food and consequently put every kid on a diet. He also wrote in an article published in The Hill that he feels these regulations get in the way of "the rights of parents to send their children to school with the foods of their choice." Some also pushed back against the higher nutritional standards because they increased the cost of food and more food was reportedly wasted, according to CNN.
The impact of such a bill passing would be huge. In just one day, more than 22 million low-income children received a free or reduced lunch in 2016 with the help of the Healthy, Hunger-Free Kids Act passed during the Obama administration, according to the U.S. Department of Agriculture.
Low-income kids depend on school lunches as a source of healthy meals. Studies show that low-income children eat more fruits and vegetables at school than at home. And I absolutely know this is true, because there were points as a teenager where I didn't eat a piece of fruit for a month. But if the school lunch had apples or pears, I'd make sure to grab one.
The Atlantic even published an article explaining why rich children like healthier foods such as vegetables more — because their parents could afford to keep buying brussels sprouts and spinach to encourage their kids to eat them. And if the vegetables spoiled, there's no real loss in comparison to poor parents who may not be able to buy more food to replace it.
While the bill could have a disastrous impact on the health of kids who are especially vulnerable, Crystal FitzSimons of the Food Research & Action Center told Romper that there is a good chance the bill won't be implemented. "Congress seems to be focused on a lot of other issues right now, so it seems unlikely that this bill would pass as a stand-alone bill."