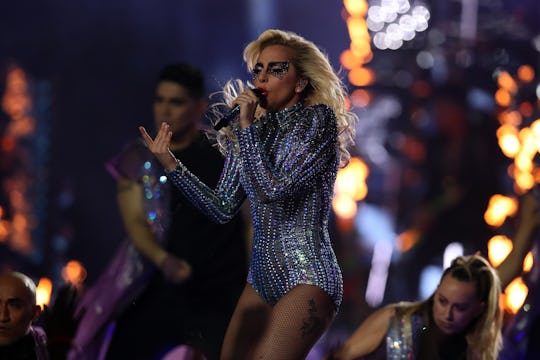 Tom Pennington/Getty Images Sport/Getty Images
Conservatives Are Mad About Gaga's Halftime Show
It finally happened. Lady Gaga fulfilled her lifelong dream of booking the Super Bowl halftime show and almost everyone was completely blown away. Of course, there will always be a select few who disagree. On Sunday night, those people were conservatives mad about Lady Gaga's halftime performance, and, honestly, they should just chill and let the pop icon shine.
The dance-jam queen put on a remarkable and extravagant 12-minute halftime show. It lit up the Houston sky with glitter and drones. But, behind all of the glitz and glam, as Vanity Fair pointed out, there was a subtle, yet edgy political statement when she opened her set with "God Bless America" and then merged into a portion of Woody Guthrie's "This Land Is Your Land."
If you weren't anticipating the possibility that Lady Gaga might get political during her halftime performance, then you might have missed this indirect jab at President Donald Trump's now-blocked immigration and refugee bans. So, when Lady Gaga opened her set with the song that has turned into an anthem for protesters singing it in the streets across the country over the past few weeks, the message became very clear. Mother Monster was embracing inclusivity, and it was a message to her fans.
A lot of people missed it and congratulated her on Twitter for not using the stage to make a political statement targeting Trump's new policies, including conservative political commentator Tomi Lahren. "What a stark contrast to last year's divisive #SuperBowl halftime performance. Thank you Gaga," she wrote on Twitter.
"The only statements I'll be making during the halftime show are the ones that I've been consistently making throughout my career," Lady Gaga said in a press conference before the Super Bowl. "I believe in a passion for inclusion, the spirit of equality and the spirit of this country, one of love and compassion and kindness."
Last year Beyoncé enraged conservatives during her cameo in Coldplay's halftime show when used the stage to send a political message about the Black Lives Matter movement.
But, some people were enraged about Lady Gaga's performance even before it started. Some on Twitter wrote that she was a bad influence on kids.
No matter what had happened on that stage tonight, someone was going to be unhappy. If Lady Gaga had made a huge, extravagant statement against Trump's administration, conservatives would be fuming. If she had ignored it altogether, her fans would've been let down. Lady Gaga handled this memorable opportunity with grace, but you can't please everyone.