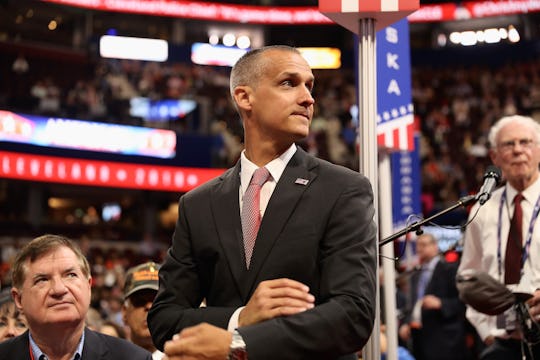 Joe Raedle/Getty Images News/Getty Images
About Corey Lewandowski's New Pro-Trump Lobbying Firm
According to CNBC, President-elect Donald Trump's former campaign manager, Corey Lewandowski, launched a new lobbying firm on Wednesday along with Republican strategist and former Trump adviser Barry Bennett. The Washington-based consultancy, named Avenue Strategies, will reportedly be based just a block away from the White House. In a statement, Lewandowski said that his goal was to "make sure the priorities of the Trump administration become reality."
Lewandowski, who was fired from Trump's campaign in June after a series of controversial incidents, said he turned down "multiple opportunities" within Trump's administration in order to launch Avenue Strategies instead. "I will always be President-elect Trump's biggest supporter," Lewandowski said in a statement. "I think I can best help him outside the formal structure of the government. I very much look forward to doing that every day."
Lewandowski and Bennett's new website claims the Avenue Strategies team will provide "client-tailored strategy and guidance carefully designed to help our clients navigate our government." The company will craft and manage clients' campaigns on different issues and policies, and Bennett told Politico that the firm would help companies navigate Washington politics, saying:
A lot of people have reached out to us, corporate clients, trade associations, individuals — we're not going to limit ourselves. I think we'll be providing strategic counsel most, explaining the White House to people. There are a tremendous number of people in Washington who don't know how the president-elect works.
Bennett, who has never worked as a lobbyist, made it clear that Avenue Strategies would only be working with companies that aligned with Trump's goals. "We are going to help Trump advance his issues," he told Politico on Wednesday. "If you're adamantly opposed to his policies, you shouldn't hire us."
According to The Washington Post, Lewandowski's announcement has drawn plenty of criticism for flying in the face of Trump's vows to "drain the swamp" in Washington — a phrase the president-elect used when promising to rid Washington of influential lobbyists with deeply-ingrained ties to the government. Craig Holman, a lobbyist for the citizen interest advocacy group Public Citizen, told The Washington Post that Avenue Strategies would "be a pricey consultant for very wealthy special interests who want very direct and immediate access to members of the Trump administration."
Despite working as a lobbyist in the past, Lewandowski told reporters that he wasn't planning to register as a lobbyist in order to fulfill his role at Avenue Strategies. Bennett, however, said he would be willing to if the work required it. Regardless, the two men who were formerly part of Trump's inner circle will likely help corporations both at home and abroad navigate a Trump presidency — but only, of course, if their goals align with the president-elect's.