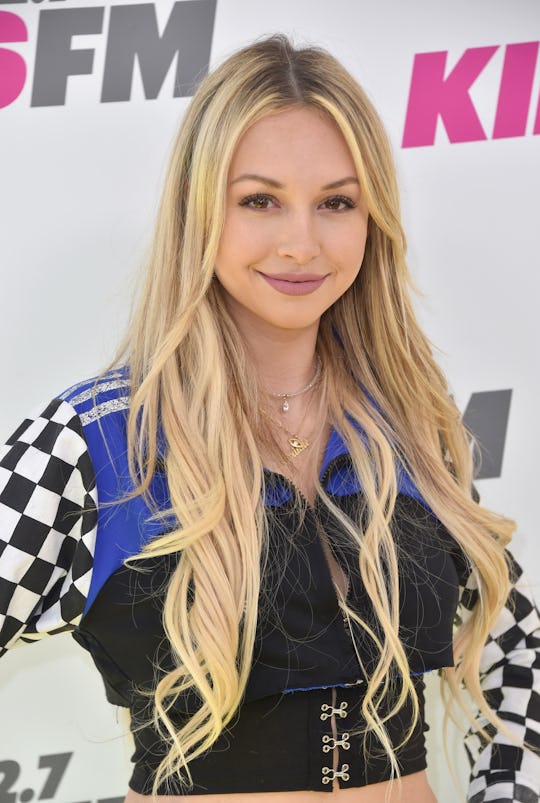 Frazer Harrison/Getty Images Entertainment/Getty Images
Corinne Olympios Responds To 'Bachelor In Paradise' Incident
News broke this week that Season 4 of the ABC hit reality dating series Bachelor in Paradise had abruptly come to a halt after the show's producers announced they had launched an investigation into "allegations of misconduct." Not long after, disturbing rumors and new details regarding the controversy began to surface. And more information came to light on Monday with contestant and Bachelor alum Corinne Olympios' response to the Bachelor In Paradise incident. Olympios' comments add a truly horrifying factor to the troubling allegations.
Olympios and DeMario Jackson — who was previously a contestant on the latest season of The Bachelorette — are at the center of the controversy that led to the network's decision to shut down production. TMZ reported that a producer decided to do so after the two contestants were filmed "getting extremely sexual in a swimming pool."
According to Entertainment Tonight, a source close to the cast said they were "drinking all day, having a good time… the guys and girls were bopping around, talking to everyone, trying to make connections."
"DeMario was in the pool. Next thing you know, Corinne comes over and hops on his lap. They start talking and joking," the source continued, according to Entertainment Tonight. "Everyone is just going about their business. Cameras are rolling. Producers are everywhere. That's when a 'third party' felt uncomfortable, claiming misconduct in the workplace."
According to TMZ, sources close to Olympios reportedly said that she was "drunk the entire day of filming" when she allegedly ended up naked in the swimming pool with Jackson, something she reportedly doesn't remember doing. TMZ reported:
We're told the day after the swimming pool incident she claims fellow cast members began telling her stories of what went down with DeMario. She says several cast members told her they had voiced concern to people on the production crew that she was in no position to consent to sexual activity, but the crew did not heed their warnings.
On Sunday, TMZ also reported Jackson's account of the alleged incident. A source who reportedly spoke to him said Jackson felt that things were "fine" between him and Olympios the next day, but just two days later they were reportedly called in by the executive producer of the show because one of the crew members had seen the footage and was "uncomfortable" with what was shot on the first day of filming.
On Sunday afternoon, Warner Bros. issued a statement to Entertainment Tonight, explaining that they have "become aware of allegations of misconduct on the set of Bachelor in Paradise in Mexico" and "are conducting a thorough investigation of these allegations." The statement added that they will take appropriate action once the investigation is complete.
Meanwhile, TMZ reported that Olympios doesn't "fully blame" Jackson for the alleged incident because he was also reportedly intoxicated. Instead, she reportedly finds issue with the crew members for allowing it happen and has since hired a lawyer.