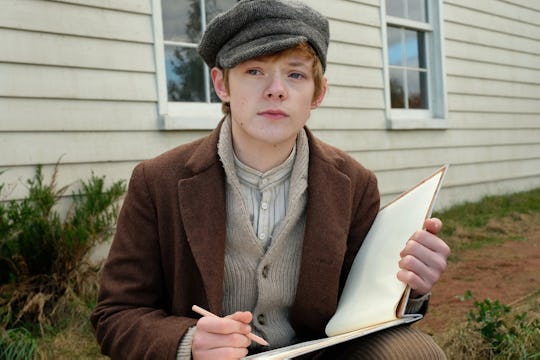 Netflix
What's Next For Cory Gruter-Andrew's Cole From 'Anne With An E'
If you like your period dramas with a healthy dose of liberal-thinking then Anne With an E is the show for you. Adapted from the beloved children's book series, Anne of Green Gables, this show is a lot more feminist, LGBTQ-friendly, and diverse than the Avonlea you may remember from childhood. Take, for example, the character of Cole, a gay adolescent coming to terms with his sexuality at the turn of the century. Romper spoke with Cory Grüter-Andrew, the young actor who plays Cole, and just he wants audiences to identify with the character
It's a pretty bold move to introduce a gay teenage character into a classic story as beloved as Anne of Green Gables. However, many critics agree that Anne With an E really blossomed once it stepped even farther away from the source material. An example of one such change is that the show turned Aunt Josephine from a "maiden aunt" as in the books to a (semi) openly gay woman. In the show, Cole has a major come-to-Jesus moment during Aunt Josephine's colorful summer soirée, filled with a diverse group of liberated and LGBTQ people — wherein Cole feels at home and accepted for the first time. None of this is in the original novels, but the story is undeniably heartwarming.
When talking about what it's like to play a gay character at the turn of the century, Grüter-Andrew points out that at the time period of the show, "No one really knew what being gay was." He also brings up the need people had for safe spaces like the one depicted by Aunt Josephine's party, and says that there were real-life secret societies like this. "And those were like safe havens for people who felt like they were out of place with the rest of the world. But it was really the rest of the world who was putting them out of place," he says.
The show may not be precisely as described in the book, but the depictions of life as a young teenager are still achingly familiar to anyone who's ever lived through 8th and 9th grade. And it is his character's relatability that Grüter-Andrew says makes him the most proud. "That's really what I was aiming for," he says. "[for] people to relate and find themselves in Cole. Except 100 years later." As for himself, Grüter-Andrew says that he relates to the character in one major way. "You know, both me and Cole have a love for our art," he says. "I love acting. It's what I wanna do with the rest of my life. That's exactly what Cole says." Cole is known to his friends as a talented artist, and at one point declares that that is what he will do for the rest of his life. "When I read that line I really related to it," Grüter-Andrew says.
So what comes next for Cole? The series left the character's next move on a bit of a cliffhanger at the end of the second season. Feeling out of place at school and on his parents' farm, Cole is taken in by Aunt Josephine. Regarding a potential third season Grüter-Andrew says, "I'd love to see Cole's journey with Aunt Josephine... as Josephine being like a mentor to Cole." Fans of the show would probably all like to see that. A third season of Anne With an E has not been confirmed, but fans are eager to find out what happens to Anne and all of her friends. Anne With an E is now streaming on Netflix.