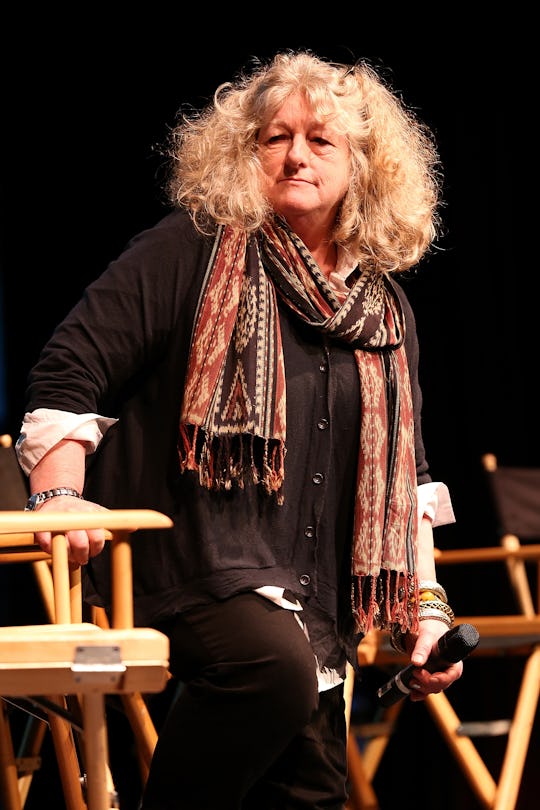 Phillip Faraone/Getty Images Entertainment/Getty Images
Costume Designer Jenny Beavan's Scarf & Jacket At The Oscars Is Giving Everyone Life
Talk about standing out from the crowd. So much time is spent discussing the myriad of flowing dresses at the Oscars each year — with their cutouts, sequins, and, sometimes, feathers — that costume designer Jenny Beavan's scarf and jacket, while unusual to some, were a fresh breath of air. To be fair, Beavan's outfit did actually have sequins on it — but they were on the back of her leather jacket in the form of a silvery skull.
Apparently, Beavan wasn't one to shy away from a bold choice: In addition to her striped scarg, the costume designer also wore a statement necklace, with her hair down and curly. How much do you want to bet that every single actor and actress in an uncomfortable get-up was incredibly jealous of Beavan as she walked up to the stage?
Personally, Beavan is my new favorite best-dressed at the Oscars, and her award was well-earned. Beavan was the mastermind behind the costumes of Mad Max: Fury Road, which were an artistic mix of post-apocalyptic, steam-punk awesomeness. Of the costumes themselves, Beaven told Vanity Fair, she had to get fairly creative, explaining in a recent interview:
We made everything, and in fact we had all the stuff they'd made previously, but even more importantly, we had all the junk they'd collected. Old car parts, old cutlery. So, I got from Australia something like 200 boxes of junk. Old goggles, old bits of ammunition, just stuff, and we set up a workroom. We found materials, like vellum, which I've never worked with before. It's disgusting, it's raw leather, really, but it made marvelous masks.
For a woman who works all day at preparing difficult and amazing costumes, she's definitely in touch with her own sense of style, and she undeniably rocked it at the Oscars.
The Internet, obviously, agreed:
I'd say many of us probably didn't know who Jenny Beavan was before she took the stage tonight, but now — due to the sheer badassery of her leather jacket and speech — most people probably consider her their favorite winner of the 2016 Oscars. And that's saying something.