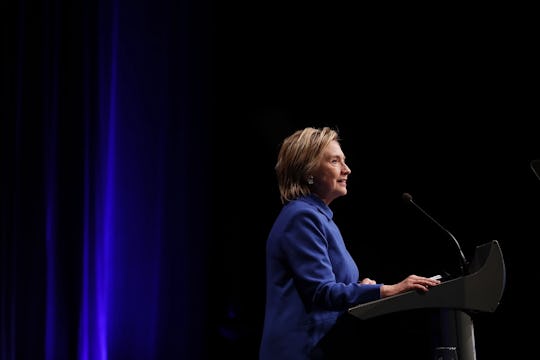 Chip Somodevilla/Getty Images News/Getty Images
Could A Vote Recount Change The Election Outcome? It's Very Unlikely
Late last week Green Party presidential candidate Jill Stein initiated a vote recount in Wisconsin, and vowed to do the same in other battleground states Michigan and Pennsylvania to make sure elections in these three states weren't tampered with. So could a recount change the election outcome? If history is any guide, it's unlikely Donald Trump's election is in jeopardy. But that doesn't mean the idea of his election being some huge mistake isn't appealing to plenty of Americans.
Stein's campaign to raise money to fund a recount started with the goal of $2.5 million, and donations started pouring in, according to NPR. By Friday, the goal had climbed to $7 million. According to Jill Stein's fundraising site, the campaign has, as of Monday morning, raised more than $6.2 million.
"Monies raised go toward recount efforts in Wisconsin, Michigan, and Pennsylvania," the recount fundraising page says about the effort. "We hope to do recounts in all three states. If we only raise sufficient money for two, we will demand recounts in two states. If we only raise enough money for one, we will demand a recount in one state."
But for all the money and excitement surrounding Stein's recount efforts, experts don't seem terribly optimistic a recount would swing enough votes to change the election outcome and make former Secretary of State Hillary Clinton President-elect.
Stein said, according to the Washington Post, this recount effort isn't about getting Clinton elected. Stein said in an interview with RT, according to the Post, she is concerned that voting machines were hacked or tampered with.
"We need a voting system that allows us to bring our values to the vote," Stein told RT, a Russian government-run media outlet, which seems like an odd choice considering the Russian government has been accused of hacking as a means to interfere with U.S. elections, according to the Washington Post. "This has been a hack-riddled election. We have voting machines that are extremely hack-friendly in an election that's been very contentious."
But, the Washington Post reported, it's unlikely these voting machines could have been hacked, and even if they had, a recount itself wouldn't prove that fact.
According to FiveThirtyEight, recounts historically don't change enough votes to have an impact on any election. FiveThirtyEight reported that the average swing of all statewide vote recounts between 2000 and 2015 was only 0.2 percent, maybe enough to flip Michigan into Clinton's column, but not enough to change the Electoral College result.
In Wisconsin, for instance, where the recount is already underway, Trump won by more than 27,000 votes, according to The Guardian, a margin of 0.7 percent. Trump beat Clinton by 0.3 percent in Michigan, and 1.2 percent in Pennsylvania, The Guardian added, all outside the 0.2 percent average gains made over the past 15 years of recounts, making it unlikely recounts would have any real impact on the election.
Clinton currently leads the popular vote tally by almost 2 million votes, according to NJ.com.
Clinton's campaign announced that, while it's own investigations didn't indicate any voting impropriety, it will nonetheless participate in Stein's recount effort. Marc Elias, Clinton's campaign lawyer wrote in a statement posted to Medium on Saturday, according to Mother Jones:
Because we had not uncovered any actionable evidence of hacking or outside attempts to alter the voting technology, we had not planned to exercise this option ourselves, but now that a recount has been initiated in Wisconsin, we intend to participate in order to ensure the process proceeds in a manner that is fair to all sides.
Trump, for his part, has taken a different approach to news of the recount: lashing out on Twitter over the Thanksgiving weekend.
Some have speculated, according to NBC News, Trump's angry reaction to the recount news is meant to be a distraction from reports about the President-elect's business conflicts of interest around the world. Because, based on expert opinion, the recount effort isn't likely to change the outcome of the election, and Donald Trump will become the 45th President of the United States.