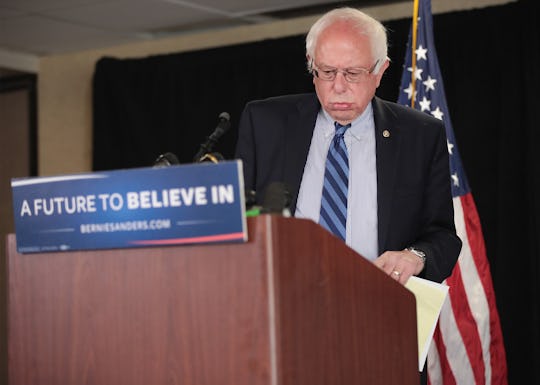 Scott Olson/Getty Images News/Getty Images
Could Bernie Sanders Still Win The Nomination? Hillary Clinton Has The Upper Hand
With the long-awaited California primary just a day away, The Associated Press on Monday released new information that provided a somewhat firm answer to the question of whether Vermont Sen. Bernie Sanders can still win the nomination. According to an updated delegate count performed early Monday evening by the AP, former Secretary of State Hillary Clinton has the support of 572 superdelegates. Combined with the 1,812 pledged delegates secured on the heels of her recent weekend victory in Puerto Rico, she now has the 2,383 delegates needed to become the presumptive nominee of the Democratic Party.
With other major news organizations, including NBC News, soon following suit, the AP was the first to declare Clinton the presumptive nominee. According to NBC News, most analysts assumed that Clinton would officially clinch the nomination only after Tuesday's primaries in California and five other states. The timing of the AP's announcement was a bit of a surprise.
The AP's decision to declare Clinton the nominee was contingent on their certainty about the allegiances of the superdelegates, who are technically allowed to change their vote all the way up until the time of the Democratic National Convention in July.
In the article declaring Clinton's presumptive nomination, the AP specified that they had "surveyed all 714 superdelegates repeatedly in the past seven months, and only 95 remain publicly uncommitted." The AP went so far as to deem Clinton's victory "broadly decisive," noting that on the eve of the California primary, Clinton led Sanders by 3 million votes, and had won 29 primaries and caucuses while Sanders had won 21.
Whether Clinton's victory is, in fact, "broadly decisive" is a point of contention. In response to the AP's decision to call the race sooner than expected, the Sanders campaign released a statement noting that "it is unfortunate that the media, in a rush to judgement, are ignoring the Democratic National Committee's clear statement that it is wrong to count the votes of superdelegates before they actually vote at the convention this summer."
The decision to declare a winner ahead of Tuesday's primaries reflects the desire of many superdelegates to close ranks around Clinton in preparation for the imminent battle with presumed Republican nominee Donald Trump. "It's time to stand behind our presumptive candidate," Michael Brown, a superdelegate from the District of Columbia, told the AP. "We shouldn't be acting like we are undecided when the people of America have spoken."
Still, declaring a winner while many of millions await their opportunity to vote in the primaries seems premature, even to Clinton herself. According to The New York Times, Clinton told supporters at a rally in California on Monday that "we are on the brink of a historic, historic, unprecedented moment, but we still have work to do, don't we? We have six elections tomorrow, and we're going to fight hard for every single vote, especially right here in California."