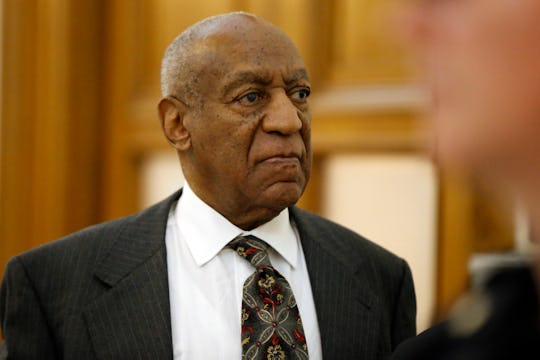 Pool/Getty Images Entertainment/Getty Images
Could Bill Cosby Go To Jail? A Pennsylvania Judge Ordered Him To Stand Trial
On Tuesday, a Pennsylvania judge ruled that there is enough evidence to proceed with a criminal trial of Bill Cosby for sexual assault. Cosby will face three counts of aggravated indecent assault regarding the 2004 case of Andrea Constand, the first of over 50 women who have accused the comedian of drugging and raping them. If found guilty, Cosby could face up to 30 years in prison, according to CNN, effectively a life sentence for the 78-year-old entertainer. Cosby's representatives, Monique Pressley and Christopher Tayback, did not immediately respond to Romper's request for comment.
Constand first gave a statement to police regarded her alleged assault back in 2005, but Montgomery County District Attorney Bruce Castor declined to file charges at the time because of "insufficient credible and admissible evidence." A civil settlement was reached in 2006. However, after scores of new accusations were leveled at Cosby, Castor's successor, Kevin Steele, reopened the case. Constand's case is one of the few that's eligible to go to trial; in most of the cases, the statute of limitations has passed. Cosby maintains that he is innocent in all 50-plus cases.
In February, Cosby sued Constand, alleging that her cooperation in the criminal investigation constituted a breach of the 2006 settlement. Cosby admitted to having sex with Constand in a deposition, but claimed that it was consensual.
Rich DeSipio, a former Montgomery County prosecutor, told People that Cosby's other alleged victims could be allowed to testify as witnesses. "It's a pattern of behavior to show his [alleged] plan in committing a crime – to show this is how he commits sexual assaults," DeSipio told the magazine. A clear pattern has indeed emerged among Cosby's accusers; almost every woman has a similar claim of seeking career advice from Cosby, allegedly being given a mysterious pill or drink, and then allegedly waking up during or after being sexual assaulted. DeSipio told People that he believes Cosby's verdict hinges on whether their testimony is allowed: "If other victims are allowed to testify, he'll be found guilty."
Aggravated indecent assault is a second-degree felony that carries a maximum sentence of 10 years, according to TIME. However, due to the specifics of the assault – the alleged victim being allegedly drugged by the perpetrator and unconscious during the assault – three separate assault charges were filed, meaning that Cosby could get up to 30 years, all told. Although standard sentencing ranges from 22 to 36 months in similar cases in the area, former Pennsylvania Assistant District Attorney Michael Skinner, who spoke to TIME in December about the Cosby case, said that he "can't imagine" Cosby getting less than three years, due not only to the seriousness of the crime, but the fact that the case is so high-profile. "Any time that a case is in the paper, it's going to get everyone's attention," he told the magazine in December. "No judge or DA's office wants to look soft on crime." The trial date has not yet been set.