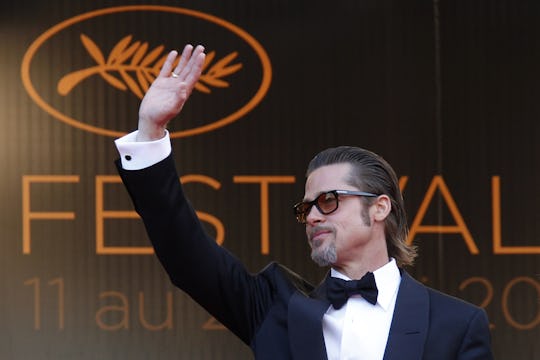 FRANCOIS GUILLOT/AFP/Getty Images
Could Brad Pitt Go To Jail? The Actor Has Been Accused Of Child Abuse
In a grim new development in the divorce of Angelina Jolie and Brad Pitt, reports have surfaced claiming that the split was spurred by an incident last week during which Pitt allegedly became verbally and physically abusive towards one of his six children. If it turns out to be true, Brad Pitt could potentially go to jail for assault and battery, though he has not been charged with any crime. Additionally, the Los Angeles Police Department has denied to The Independent that its investigating any allegations against Pitt, so right now, the claims appear to be purely speculative. Romper has reached out to Pitt's representation for comment, but did not immediately hear back.
TMZ has claimed that last Wednesday, Pitt "got wasted" on a private plane, and then "went wild, screaming and getting physical with the kids." The alleged fracas supposedly spilled onto the tarmac once the plane landed, culminating in Pitt attempting to steal a fuel truck.
People's sources are claiming that the Los Angeles Police Department and L.A. County Department of Children and Family Services are investigating Pitt after an anonymous tip was called in on Wednesday, and notes that in court filings, Jolie listed the date of the couple's separation as Thursday. The magazine's report is similar to TMZ's, alleging that Pitt verbally and physically abused one of his children in the presence of Jolie and the other kids. Under California law, a person convicted of assault and/or battery could potentially face up to six months in county jail.
The claims also align with Us Weekly's story, which has a source alleging that a single incident that "affected the entire family" was the reason that Jolie filed for divorce. Jolie cited irreconcilable differences in her filing and is reportedly seeking sole physical custody of the children. Her attorney released a statement on her behalf saying that "This decision was made for the health of the family." Pitt also released a statement, stressing that "what matters most now is the well-being of our kids," and urged the press to give the kids their space.
This new twist could perhaps finally put to rest the rumors that note actress Marion Cotillard was responsible for the Jolie-Pitt divorce. Tabloids have long been pushing claims that the French actress had an affair with with Pitt while the two were filming the upcoming movie Allied. On Wednesday, Cotillard took to Instagram to refute the claim, saying that she's quite happy with her partner, Guillaume Canet, with whom she's expecting a second child. She also wished Jolie and Pitt "peace in this very tumultuous moment." I second that motion.