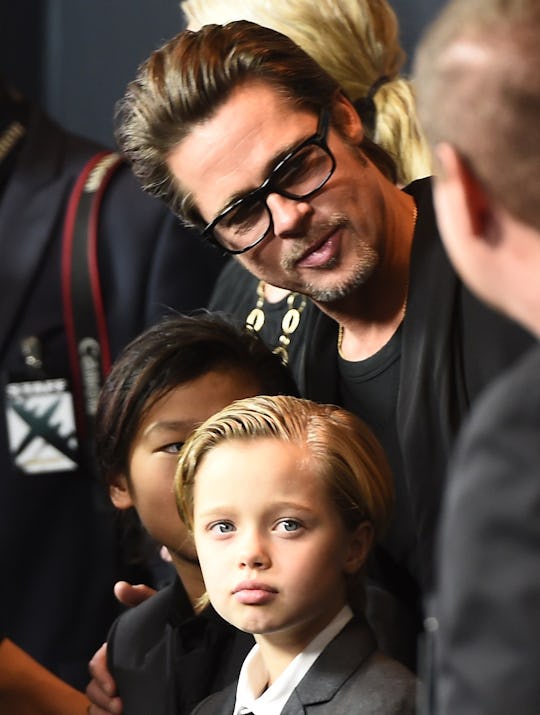 ROBYN BECK/AFP/Getty Images
Could Brad Pitt Win Custody Of The Kids? He & Angelina Jolie Will Go To Court
Since news of Angelina Jolie's divorce filing hit the Web, people have speculated about the sudden split, resulting in rumors about Pitt's alleged failures as a husband and father. And when Pitt released a statement, it was clear he was on the defensive. But that's no longer the case. Pitt has hired family law attorney Lance Spiegel to represent him in his fight for custody of the children, according to People.
In a previous statement made to People, the actor made sure to highlight what his priorities would be in the divorce proceedings:
I am very saddened by this, but what matters most now is the well being of our kids. I kindly ask the press to give them the space they deserve during this challenging time.
Jolie had requested sole physical custody of the couple's six children, suggesting Pitt get visitation rights and joint legal custody only. The actress is not asking for spousal support. "This decision was made for the health of the family. She will not be commenting, and asks that the family be given its privacy at this time," Jolie's attorney Robert Offer said in the statement, according to People.
Jolie has hired hot-shot divorce attorney, also known as the "Disso Queen" (for dissolution of marriage), Laura Wasser. Wasser has an impressive roster of previous clients, including Britney Spears, Kim Kardashian, Ryan Reynolds, and most recently, Johnny Depp, according to Us Weekly.
So it's no surprise that Pitt also hired a family law attorney familiar with high profile cases. Lance Spiegel has represented the likes of Michael Jackson, Russell Simmons, and Eva Longoria in the past, according to the New York Magazine. Spiegel is the third to join Pitt's team, which also includes lawyer Alan Hergott and manager Cynthia Pett.
From the statements and information released by Jolie and Pitt's legal teams and friends, it seems the legal battle will primarily concern custody of the children. Both the actors have been known to be extremely family-minded, and they both have mentioned wanting to do what's best for their kids.
In the divorce filing, Jolie noted that she was "extremely upset with (Pitt's) methods" of parenting the children. Since then, several outlets have reported that the L.A. County of Children and Family Services has opened an investigation into allegations that Pitt was verbally abusive and got physical with one child on a private plane over the weekend. Neither Jolie's nor Pitt's representatives have responded to Romper's requests for comment regarding the abuse allegations. If the investigation yields results that work in Jolie's favor, it's safe to assume that Pitt won't have a great shot at winning custody of the children, even with a solid legal team. But Pitt and sources close to him have emphatically denied the abuse allegations, according to USA Today.
Currently, all of the kids legally belong to both parents. Although Jolie had adopted sons Maddox and Pax before she and Pitt began dating, Pitt soon filed to adopt the kids as well. Maddox, Pax, Zahara, and the couple's biological children, Shiloh, Knox, and Vivienne are all Jolie-Pitts. With Maddox being the oldest at 14, and Knox and Vivienne the youngest at 7, the kids are all at an age where they'll understand what's going on, at least somewhat.
The battle won't just be particularly nasty for the parents, who will likely spend months in mediation and hundreds of thousands — possibly millions — of dollars in legal fees. But it will also be rough on the children, who have spent years growing with, learning to love, and feeling a sense of belonging to their multicultural, large, tight-knit family.