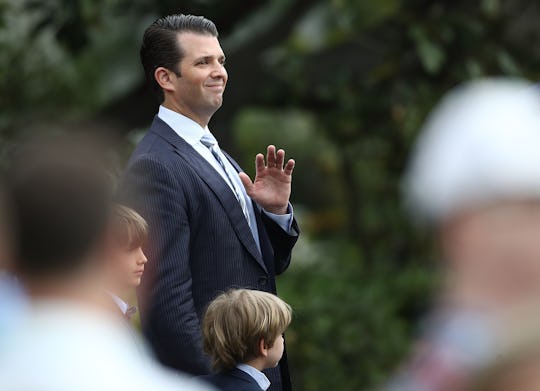 Win McNamee/Getty Images News/Getty Images
Could Donald Trump Jr. Go To Jail?
According to The New York Times, prior to arranging a meeting with a "Kremlin-connected Russian lawyer" he believed could offer him damaging information about former secretary of state and presidential candidate Hillary Clinton, Donald Trump Jr., the son of President Donald Trump, was told via email that the information was part of an effort by the Russian government to assist with his father's candidacy for president of the United States. Now, Trump Jr. has tweeted out the emails in question with a statement from him on his own Twitter account. And they could really get him into trouble. But could Donald Trump Jr. go to jail over this whole situation?
Some experts say he absolutely could. Trump Jr. has not been charged with any formal crime and claims he is completely innocent. Representatives for Trump. Jr did not immediately respond to Romper's request for comment.
However, according to The Week, MSNBC justice and security analyst Matthew Miller has said Trump Jr.'s statement about the situation could act as the potential confession of a crime. He reportedly told the hosts of Morning Joe:
You know, it is a crime to solicit or accept anything of value from a foreign national in a campaign. The "thing of value" has never come up in this context before because we've never had a campaign like this, that potentially colluded with a foreign government, but in other contexts, in bribery cases and extortion cases, a thing of value doesn't have to be money.
It could be, potentially, accepting information.
As seen in the tweets above, Trump Jr. admitted to the meeting and defended himself by claiming he was only trying to be "transparent" about exactly how the meeting was organized. But the fact that he was willing to meet to receive information "that would incriminate Hillary" from the Russians, going so far as to say in an email reply, "if it's what you say I love it," it could be incredibly damaging for him.
According to The Independent, following Trump Jr.'s admission to The New York Times, and now with these latest emails he tweeted out himself, there's been a lot of talk of whether this meeting in question is "proof of collusion" between the Trump campaign and Russia — and that, with his admission, Trump Jr. might have already admitted to committing a crime.
Trump Jr. has stated that the information he received at the meeting wasn't "meaningful," but according to Vox, that doesn't really matter when it comes to determining whether he could legally be in hot water here. The outlet reported that, by agreeing to the meeting in the first place, Trump Jr. may have violated campaign finance law.
Basically, just the fact that Trump Jr. agreed to hear possibly damaging information from a Russian national about Hillary Clinton, his father's rival in the presidential campaign, and that he attended the meeting and listened to her, might be enough to arguably prove that he committed a federal crime. His defense of the meeting may well be treated as his confession of guilt.
And Trump Jr. may have realized that. According to Vox, he hired a lawyer, Alan Futerfas, on Monday, to represent him on any issues relating to the Russia investigation.
Then there's the fact that in the past, Trump Jr.'s story has changed. He told the Times in March that, while working in a "campaign capacity," he never met with any Russians. He's now admitted that that isn't true. His contradictions could also get him into trouble.
Plus, as The Washington Post pointed out, there are numerous other times that other members of the Trump campaign, and Trump himself, have stated that there was no contact between associates of Trump and Russia during the campaign. Again, Trump Jr.'s own latest admission is a clear contradiction of those claims.
So, could Donald Trump Jr. go to jail, or at the very least, face criminal charges, because he admitted to agreeing to meet with a Russian official in order to receive this information? It's too soon to tell, but with the evidence against him, things aren't looking good for Trump Jr. at all.