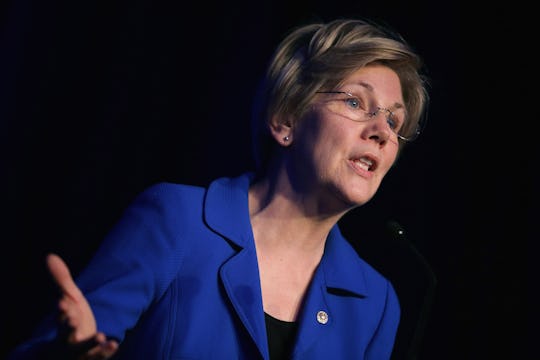 Chip Somodevilla/Getty Images News/Getty Images
Could Elizabeth Warren Help Clinton Beat Donald Trump? Her Support Could Prove Pivotal
In a long-awaited move, Sen. Elizabeth Warren could finally endorse former Secretary of State and presumptive Democratic presidential nominee Hillary Clinton, according to news reports. Quoting "several people familiar with Warren's thinking," Reuters reported this week that the Massachusetts senator is planning to throw her support behind Clinton in a move that would effectively rally all the party's major players behind one candidate heading into the general election. As one of the most aggressive voices against the rhetoric of Republican candidate Donald Trump, Warren's potential contribution to Clinton's campaign could prove pivotal. There's no doubt that Elizabeth Warren could help Clinton beat Donald Trump. But the real question is whether Warren will be asked to do it from her powerful perch in Congress or by Clinton's side as her running mate.
After a contentious primary season — and a deep divide between the Clinton camp and the more stalwart supporters of Vermont Sen. Bernie Sanders — Warren's immediate backing could go a long way to uniting progressives behind the Clinton banner. According to a report in The Atlantic, because Warren has largely stayed out of the fray, she has been able to act as a go-between for the two camps. With the primary season effectively over, Warren's clout among Sanders' supporters could help woo the #BernieOrBust crowd and strengthen Clinton's position heading into the general.
Of course, some Sanders supporters will be harder to convince. Still, The Atlantic reported that, if Warren waits for Sanders to formally announce the end of his campaign, there could be less backlash from die-hard supporters. If she endorses Clinton before Sanders formally ends his White House bid, Warren will almost certainly be criticized for giving up on the Vermont senator's campaign at a crucial moment (even though the math simply doesn't support a Sanders comeback at this point).
But to some, a simple endorsement doesn't go quite far enough. Instead, the clearest way for Warren to help the Democrats defeat Trump would be to serve as Clinton's running mate. Until recently, it wasn't a job that Warren seemed interested in pursuing. Just last week, the Boston Globe reported that while Warren is "intrigued by the possibility that she could be picked as Clinton's vice president ... she is not sure that the move would make sense for her."
However, Reuters reported this week that sources close to the Massachusetts senator believe Warren is open to being picked for vice president. It's clear that, as an icon for the more progressive side of the Democratic Party, adding Warren could create a kind of unity ticket that helps to not just bridge but seal the gaps that arose during the primaries. Not to mention, Warren has proven incredibly skilled at challenging Trump's racism and bigotry head on, a strategy that Clinton herself has only recently gotten the hang of.
But there are some serious downsides. According to the Reuters report, Warren was concerned that having two women on the Democratic ticket, while historic, could hurt the party's chances at defeating Trump in November. Not to mention, as a senator, Warren now has the power to push her own progressive-leaning agenda — autonomy that would certainly be curtailed if she teamed up with the Clinton campaign.
Reuters reported that, though Warren's endorsement is expected within the next two weeks, the Massachusetts senator had not yet spoken to Clinton or anyone from her campaign about the possibility of joining the ticket, according to their sources.
Either way, Warren's support is a huge gain for the presumptive Democratic nominee. And the fact that the DNC is already looking into a strategy for Warren to run without losing her senate seat could also be a sign of another history-making turn for the Clinton camp. But whether Warren's support will be enough to bring along the #BernieOrBust crowd — or if it will simply push his most die-hard supporters into Trump's arms — remains to be seen.