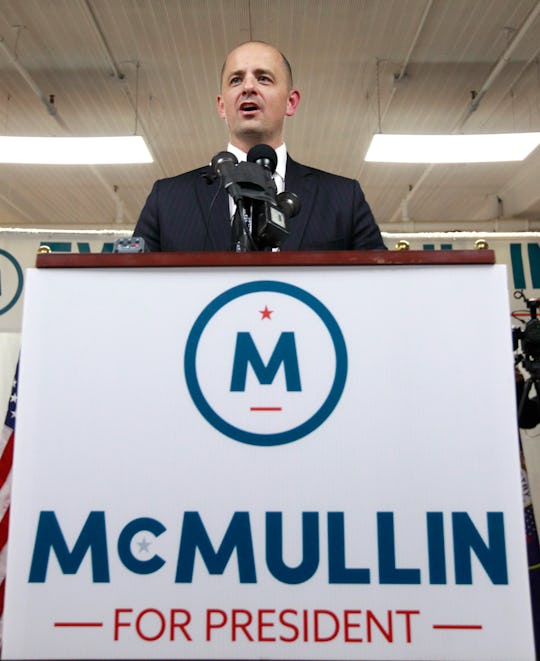 George Frey/Getty Images News/Getty Images
Could Evan McMullin Win More Than One State? He Has Utah's Consideration
If you haven't been paying much attention to Evan McMullin's presidential race, it's certainly an interesting week to decide you want to learn more about the candidate's run for the White House. McMullin, a former CIA officer, entered the race in August, and has recently picked up a bit of momentum – particularly in his home state of Utah. Recent surging poll numbers in Utah reveals that McMullin is catching up in polls to Democratic Party presidential nominee Hillary Clinton and Republican Party presidential nominee Donald Trump. With rising poll numbers, McMullin, who is running as an Independent conservative – and an appealing conservative alternative for many disenchanted with Trump – is making a significant impact in Trump's already-difficult battle in Utah. But could McMullin win more than one state? Well, his ties in Utah are certainly strong, but he would certainly have a ways to go in other states.
According to McMullin's biography on his campaign website, he's a 40-year-old former CIA officer who previously worked as the chief policy director for the House Republicans. McMullin, who is a Mormon, called himself "the only conservative" in the presidential race, during an interview with NPR. He and his running mate, Mindy Finn, who most recently served as the president to a bi-partisan organization she founded called Empowered Women, have released their stances on issues, like wanting to give more power to the states, among other views.
So where does McMullin stand in his presidential run?
As McMullin indicated in his interview with NPR on Sunday, his name will appear on ballots in 11 states, bringing his total ballot access number (including write-ins) to about 35 states.
"We're on the ballot in 11 states, and we have ballot access in another number of states," he said. "So we have a total ballot access either as a write-in or appearing on the ballot in 34 to 35 states. By the time we get to Election Day, it will be 43 to 45."
According to recent polls by FiveThirtyEight, McMullin has polled between 20 and 29 percent in Utah, making him just one percentage point behind Trump, and one percentage point ahead of Clinton in the Rasmussen/Pulse Opinion Research poll.
But apparently, as FiveThirtyEight noted, it's unclear how McMullin will do in other states, considering other state polls haven't revealed that he's particularly a factor or threat to the other major party nominees yet. And beyond his home state of Utah, voters are still widely and significantly unfamiliar with McMullin, a newcomer to the presidential race.
But McMullin certainly has Utah's attention, a state with a significant Mormon population, and a state which traditionally votes Republican. But with Trump's continued offensive and discriminatory rhetoric, and especially the recent leaked tape of his 2005 recorded conversation in which he described, and boasted about, sexual assault – he faces serious trouble with Mormon support.
McMullin has certainly thrown a wrench in Utah polls, it will be interesting to see how the next few weeks pans out. After all, this election has been anything but uneventful.