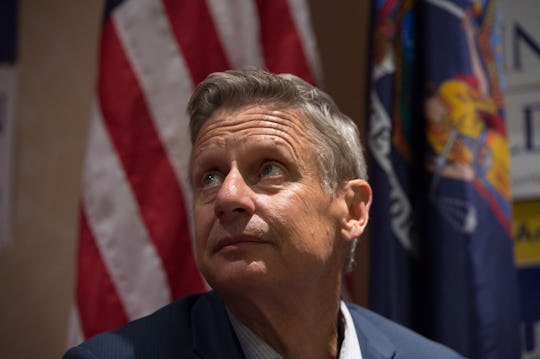 BRYAN R. SMITH/AFP/Getty Images
Could Gary Johnson Be Invited To The Presidential Debates? He's Fighting For It
The first presidential debate is Monday Sept. 26 and it's being billed as a battle royale between Republican nominee Donald Trump and Democratic nominee Hillary Clinton. But there are third party candidates trying to make a bid for the presidency and it seems almost possible that Libertarian candidate Gary Johnson could be invited to the presidential debates. That's what he would like, at least. But there are rules about getting into the debates and so far, Johnson (and the Green Party's Jill Stein) are conclusively excluded from the first debate at the end of the month.
Johnson is fighting to be included in the later debates. To be included in the debates, which have been run by the by the Commission for Presidential Debates (CPD) since 1988, candidates have to have 15 percent of the overall vote, which, according to polls, Johnson does not have. He's at 9 percent, but the candidate is hoping that he'll get more support before the second debate in early October.
The CPD is a non-partisan, non-profit organization, but Johnson is railing against the organization, saying that its qualifications for candidates are too arbitrary. He also will be on the ballot in all the 50 states; the CPD says that a candidate has to be on enough ballots to theoretically win the 270 electoral college votes in an election. So, if Johnson can bump up his poll numbers, fair is fair and the CPD will have to get another podium. For comparison's sake, most recent polls put Stein at around 3 percent, so it will be tougher for her to get a place on stage.
Donald Trump should theoretically want Gary Johnson to be in the debates — a third party candidate can jostle support between two candidates. Johnson and Stein being involved in any national debate, however, could hurt Clinton in the general election in November.
Oddly, Trump isn't into letting third party candidates in the debates since, as he told Larry King early in September, he and Clinton are the only two that have a "chance" at winning. "They seem to be going down, the other two," Trump told King. "They seem to be going down a little bit. We'll see what happens," the business mogul added.
For his part, Johnson is making it sound like the CPD has blocked the door for third party candidates to enter the debates completely, but the rules have been in place for decades and they seem to work. Frank Fahrenkopf, a Republican co-chair of the CPD said on CNBC recently, "If someone came in and let's say he was [polling] at 14.5 percent and the margin of error in five polls was 3 points, we are going to have to sit down and look at it. But right now that person would not be included."
So it's possible that if Johnson can round up some support that he'll be sharing a stage with Trump and Clinton in October. Time to start doing your homework, voters.