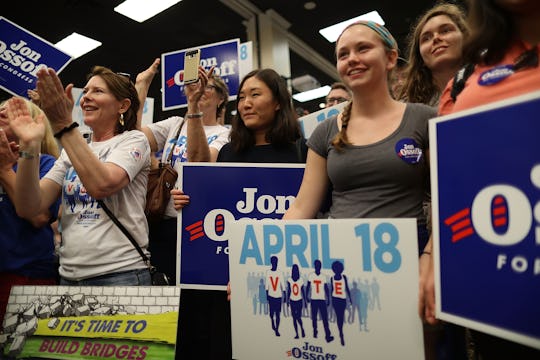 Joe Raedle/Getty Images News/Getty Images
Georgia's Election Might Be First Step In Flipping Congress
In any other year, not too many people would be paying attention to the fate of a single Congressional seat from Georgia. But the political climate of 2017 is completely unprecedented, and people are wondering, could Georgia's special election help flip the House? In a way, it could. The immediate results wouldn't change anything, but the aftermath could have serious consequences, and it all rests on the likability of millennial candidate and one-time Han Solo cosplayer Jon Ossoff.
Ossoff is running to fill the vacancy left by Secretary of Health and Human Services Tom Price in Georgia's 6th congressional district. According to CBS News, the district has been represented by Republicans exclusively since 1978, but President Donald Trump only won it by two points, and considering his current approval rating is less than 42 percent, voters could flip the House seat to send him a message. Tuesday's vote is what's known colloquially as a "jungle primary." All candidates, regardless of party, run against each other. If a candidate gets 51 percent of the vote (which is unlikely), they're declared the winner. Otherwise, the top two candidates will face off on June 20. According to a Huffington Post aggregate, Ossoff is leading the polls at 42.5 percent, trailed by Republican candidate Karen Handel at just 17 percent.
Judging by a string of recent tweets, Trump seems to think that Ossoff's lead is due solely to the Republican vote getting split up between 11 candidates, but according to the Wall Street Journal, Georgia's 6th is one of the most highly educated districts in the country, and college educated voters tend to vote Democrat by an increasingly wide margin. If Ossoff wins, Republicans will still have control of the House, but it could be a sign that the tide is changing for Trump and his party.
All 435 House seats will be up for reelection in 2018, and Democrats will need to flip 24 of the 238 Republicans, or 10 percent, in order to regain control. In addition to Georgia's 6th, four more House districts held, or will hold, special elections in 2017. Kansas's 4th District recently voted to stay red, and Montana's At-Large Congressional District is expected to do the same on May 25. California's 34th District will replace a Democrat on June 6, and South Carolina's 5th District will replace a Republican rep on June 20. If Georgia's 6th District is the only seat that flips Democrat, that still represents 25 percent of the the Republican seats, which would indicate that the goal of flipping 10 percent next year is completely reasonable. Tuesday's election won't change anything overnight, but it's an important one nonetheless.