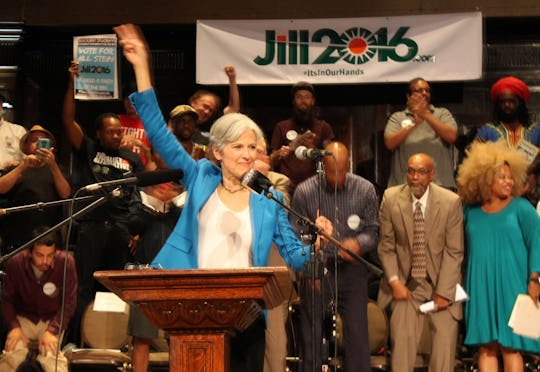 AFP/AFP/Getty Images
Could Jill Stein Be Invited To The Presidential Debates? All Hope Is Technically Not Lost
The presidential election cycle will progress to the next phase with the much-anticipated presidential debates. Democratic Party presidential nominee Hillary Clinton and Republican Party presidential nominee Donald Trump will take the debate stage on Sept. 26 at Hofstra University for the first of three scheduled debates. But for the third party candidates – Independent Party presidential nominee Gary Johnson, and Green Party presidential nominee Jill Stein – did not qualify to participate and therefore will not be included in the televised event. But, could Stein be invited to the presidential debates? Well, not to the first one, but she still has a chance to participate in the debates following.
In order to qualify to participate in the presidential debates, candidates must be polling at 15 percent in five national surveys leading up to the debates. As it stands now, according to a NBC News poll, Johnson is polling at 10 percent and Stein is polling at 4 percent. Different polls show varying percentages; for instance, a recent Reuters poll put at Johnson at 6.6 percent and Stein at 2.2 percent. Regardless, the two candidates are well below the threshold and will not participate in next week's debate. Instead, Clinton and her running mate, Virginia Sen. Tim Kaine, and Trump and his running mate, Indiana Gov. Mike Pence, will have their voices heard on Monday as they battle it out on the issues.
Stein and her running mate Ajamu Baraka have been vocal about the Commission on Presidential Debate's (CPD) 15 percent threshold rule. Stein and Baraka previously released a petition to have the CPD open the presidential debates:
...Polls show that 50% of Americans do not identify as either Democrat or Republican. This means that the Presidential debates as currently managed are locking out the diverse voices and views of half of all Americans.
The Commission on Presidential Debates may sound like an impartial, public body, but it is actually a private organization run by the Democratic and Republican parties. When these two establishment parties took over the debates in 1989, the League of Women Voters withdrew its sponsorship, rightly observing that the 'unprecedented control' demanded by the Democrats and Republicans would make the debates 'campaign-trail charades' that would 'perpetrate fraud on the American voter'...
And now, Kevin Zeese, the Green Party campaign senior advisor, is apparently organizing a protest at Hofstra University on Monday. He wrote a letter to Green Party supporters indicating that there may be an "attempt to escort" Stein and Baraka into the debates.
According to Politico, the CPD released a statement revealing that Clinton, Trump, Johnson, and Stein polled at 43, 40, 8.4, and 3.2 percent respectively. The Commission noted that Stein and Johnson did not qualify for Monday's debate and that their running partners did not qualify for the vice-presidential debate on Oct. 4. However, the Commission made clear that "criteria will be reapplied to all candidates in advance of the second and third presidential debates."
It will certainly be interesting to see how the first debate goes on Monday, and how the third-party candidates' polling percentages will be affected afterwards. In the meantime, I'm sure people around the country are preparing for what is likely to be an engaging debate in all aspects.