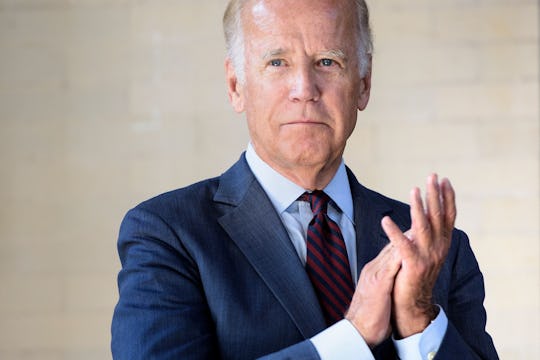 BRENDAN SMIALOWSKI/AFP/Getty Images
Could Joe Biden Be Hillary Clinton's Secretary Of State? He's Reportedly Her Top Pick
Many Americans were disappointed when Vice President Joe Biden announced a year ago that he would not be running to be the 2016 Democratic presidential candidate. That spot, of course, ultimately went to Democratic presidential nominee Hillary Clinton, but now it sounds like Biden might have a new job on the horizon. Could Joe Biden be Hillary Clinton's Secretary of State? According to Politico, Clinton has reportedly picked Biden as her No. 1 choice for the role — and, as someone who was President Obama's pick for Secretary of State herself, it's no doubt a decision she's taking very seriously.
Neither Clinton nor Biden have confirmed the report, and a request for comment by Romper was not immediately returned. But if he were to take her up on the rumored offer, he seems like he'd be a great fit. According to The Washington Post, Biden has more than 40 years worth of experience in public office, is well-liked by the electorate, and highly respected in Washington. As a senator, Biden chaired the Senate Judiciary Committee and the Senate Foreign Relations Committee, and later, as President Obama's second-in-command, served a key role in a number of the decisions defining Obama's presidency, such as ushering in the Affordable Care Act, and implementing the stimulus package, according to CNN.
Clinton (and, let's face it, a good chunk of the rest of the country) might be hoping that Biden will take her up on her offer, but will he be interested? One of the main reasons, after all, that Biden opted to not run against Clinton in the first place was because he was still grieving the loss of his son, Beau, who died from brain cancer last May, and wanted to ensure he was there for his family, according to The Hill. At the same time, though, Biden told NBC News in January that he regrets not running for president "every day," and that he "[plans] on staying deeply involved." But perhaps not in the White House — in September, Biden spoke to STAT about his plans to focus the remainder of his career on pursuing cancer research, and said,
I'm not going to stay on in the administration [after the election]. What Hillary talked about is, as I understood it, me being able to have the same authority over elements of her administration from the outside that I have now from the inside, to be able to coordinate those efforts.
Even if Biden is open to the idea of taking a prominent role in a possible Clinton administration, Politico also noted that Clinton and Biden actually clashed on a number of important issues while she was Secretary of State. Clinton's perspective on a number of issues — including military involvement in Iraq, Afghanistan, and Syria — tended to be more aggressive than Biden's, which could cause tension. And Clinton also has a number of others on her list of potential picks for the position, all with their own unique strengths, according to Politico, including Wendy Sherman (a former undersecretary of state), Bill Burns (a former Deputy secretary of state), Nick Burns (the former undersecretary of state for President George W. Bush), Kurt Campbell (Clinton's assistant secretary of state for East Asian and Pacific affairs), Strobe Talbott (President Bill Clinton's deputy secretary of state), and James Stavridis (a retired admiral who was once rumored to be in the running as her running mate).
According to People, the news of Clinton's consideration of Biden as Secretary of State marks "the first major Cabinet candidate to go public in the Clinton campaign," despite previously claiming she would be holding off on those announcements to focus on winning the election first. But given Clinton's strength in recent polls, it's no surprise that these decisions are becoming a higher priority as Election Day nears. And it sounds like Clinton's camp isn't taking any chances courting Biden — as an unnamed source told Politico, "He'd be great [as Secretary of State], and they are spending a lot of time figuring out the best way to try to persuade him to do it if she wins."
Of course, until Clinton actually wins the election, talk of who will comprise her Cabinet is still just speculation. But Biden has been a popular vice president, and there will surely be many Democrats who would be more than happy to see him stick around in the White House for another four years.