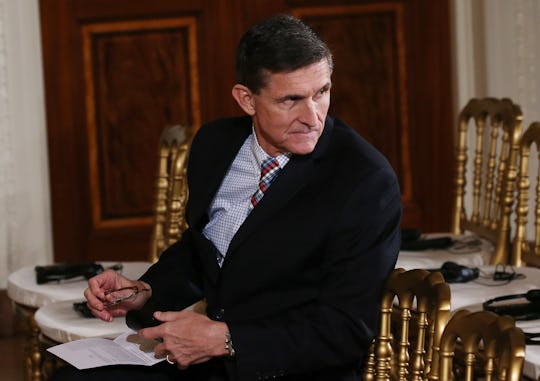 Mario Tama/Getty Images News/Getty Images
Could Michael Flynn Be Stripped Of His Military Title?
After being forced to resign from his post as President Donald Trump's national security adviser only 24 days into the job, some are now wondering whether retired Army Lt. Gen. Michael Flynn could be stripped of his military title for his communications with Russian government officials and new revelations that he allegedly accepted money from foreign governments without advance permission. While the commander in chief hasn't shared his opinion on the matter, some think he should suffer further consequences for allegedly violating the law. Romper has reached out to Army and Pentagon spokespersons for comment on whether Flynn could lose his military stars and is awaiting a response.
According to an interview with Business Insider, Richard Painter — former top ethics lawyer for President George W. Bush, from 2005 to 2007, now a professor at the University of Minnesota — thinks this is the "next logical step."
"I think that's the next step the president should take," Painter told Business Insider. "The president is the commander in chief... It's good that [Flynn is] out of the White House, but he should lose his status. That's the next appropriate step."
"Someone does something that is unconstitutional, and they not only do it but they were told not to do it and they do it anyway, he's out," Painted claimed. "That's the only appropriate answer."
As a refresher, Flynn resigned as Trump's national security adviser earlier this year after it was discovered that he withheld information about discussions he had with Russian ambassador to the United States Sergey Kislyak, according to CNN. Months later, the Pentagon opened an investigation into money he reportedly received from foreign groups and "whether he failed to obtain proper approval to do so," according to The Washington Post. And the sum is hefty: He was reportedly paid $34,000 in December 2015 for "speaking at a gala celebrating Russian TV" and more than $500,000 for "lobbying work on behalf of the Turkish government," according to NBC News.
On Thursday, NBC News reported that new documents reveal that Flynn was allegedly and "specifically warned in 2014 not to take money from foreign governments" without receiving permission beforehand.
After reviewing these reports and Flynn's application for security clearance, CNN reported earlier this week that House Oversight Chairman Jason Chaffetz and ranking Democrat Elijah Cummings said he "may have broken the law," leading some to wonder how he should be punished if he is proven guilty after the investigation is complete.
"He was told not to do it, he did it anyway, and then he lied about it," Painter alleged in the same interview. "So ... his lying about it is clearly a crime... But I think the most important is finding out who else in the White House knew about this and covered it up. Whoever it is ought to be gone and the documents turned over to Congress."
Under military law, if Flynn is convicted of a crime, it's possible that he could indeed lose his military title and, as a retiree, he and "his survivor or beneficiary" could also lose Flynn's federal pension. Of course, this depends on a lot of factors, such as military rank, type of conviction, and the dates of the alleged crimes.
According to CNN, last month Flynn retained a lawyer and has offered to testify in exchange for immunity from prosecution , but has not been offered this trade-off yet. The investigation still has quite a way to go until evidence becomes more concrete, but in the meantime, Flynn still appears to be in some very hot water.