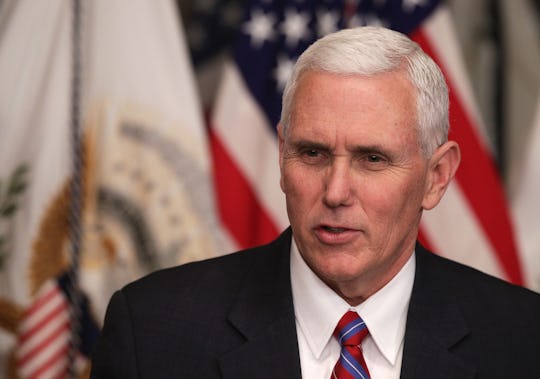 Alex Wong/Getty Images News/Getty Images
Could Pence Face Criminal Charges For His Emails?
Anyone who was even sort of paying attention during the 2016 presidential election cycle will remember that one of President Trump's most repeated criticisms about former Secretary of State Hillary Clinton was her use of a private email server to conduct state business. The scandal helped unite Trump supporters under the claim that Clinton was corrupt, but on Thursday, a report from The Indianapolis Star claimed that Vice President Mike Pence also "routinely used a private email account to conduct public business" during his tenure as governor of Indiana, even regarding "sensitive matters and homeland security issues." Could Mike Pence face criminal charges for his private email use?
In a statement, Pence's office told The Indianapolis Star that the use of a state email account and a personal email account is considered normal for governors, and that he "fully complied with Indiana law regarding email use and retention." But critics say his use of a personal account to discuss sensitive state business was a security risk, particularly given the fact that his personal AOL account was hacked in June 2016. Pence's office didn't immediately respond to Romper's request for comment.
The hack appeared to be a relatively common imposter scam, according to The Star, in which the hacker sent out an email to Pence's contacts claiming that he and his wife, Karen, were stranded in the Philippines and needed money for their hotel and flight home.
The fact that Pence was hacked may not have appeared to be a big deal at the time, but the common nature of the hack itself suggests that it would have been relatively easy for his inbox to be breached. That's a pretty concerning issue, because while the Indiana governor's office has since released 29 pages of emails saved from Pence's AOL account, "an unspecified number" of other emails remain private due to their confidential nature. And if the emails are too confidential to release to the public, well, they likely shouldn't have been sent on his personal email account in the first place.
Despite the obvious comparison between Pence's use of a personal email account and Clinton's, a rep for Pence told The Star that it would be "absurd" to suggest it was the same thing, since Pence, as governor, wouldn't have been discussing federally classified information. But in a follow-up report Friday, Star reporter Tony Cook released copies of some of the emails obtained by the outlet via a public records request, and, well, the comparison doesn't appear that absurd at all.
In one email dated Jan. 8, 2016, Pence's then Deputy Chief of Staff for Public Safety John H. Hill allegedly sent a message to Pence's AOL account with the subject line "Arrests of Refugees." In the body of the message, he wrote,
I just received an update from the FBI regarding the individuals arrested for support of ISIS. Now a total of five persons have been arrested but three of them for providing material support to ISIS. The other two for conspiracy and transporting stolen goods. Arrests occurred in Houston, TX, Sacramento, CA, and Milwaukee, WI. Both of the earlier referenced refugees are reported now as "Iraqi" — not Syrian.
Indiana law does not prohibit public officials from using personal email accounts, though they are legally required to retain any communication referencing state business so it can then be searched for during public information requests. All emails sent and received on state accounts are automatically saved, but Pence would have had to deliberately include his personal emails by forwarding any pertinent communication to his state account, and according to The Star, "there is no indication that Pence took any such steps ... until he was leaving the governor's office."
Still, it's unlikely that Pence will actually face charges for his emails. Clinton, for one, was cleared by federal prosecutors twice after it was determined that, though she and her aides had been "extremely careless" by using a private server, according to BBC News, there wasn't cause to bring forth a criminal case against her. Similarly, it has since come to light that former Secretary of State Colin Powell, who served under President George W. Bush, also chose to use a personal email account instead of a government account, as did former Secretary of State Condoleezza Rice, according to The Guardian. When Powell's personal email account use was disclosed during the time of the Clinton email scandal, he defended his choice, and told NBC News, "I wish they would release [my emails], so that a normal, air-breathing mammal would look at them and say, 'What's the issue?'"
But legal and security implications aside, the fact that Pence used his AOL account as governor is being seen as highly hypocritical given that he was quick to grill Clinton for that very thing during the presidential campaign. In September 2016, Pence — then the Republican Vice Presidential candidate — told NBC's Meet The Press that Clinton was "the most dishonest candidate for President of the United States since Richard Nixon" and criticized her emails as being proof of an intentional lack of transparency. Pence said,
What's evident from all of the revelations over the last several weeks is that Hillary Clinton operated in such a way to keep her emails, and particularly her interactions while Secretary of State with the Clinton Foundation, out of the public reach, out of public accountability.
In the wake of the Pence AOL account discovery, many have also noted that he also once tweeted about Clinton's emails as being illegal:
Of course, even if Pence hadn't tried to suggest that Clinton be criminally charged for something he basically also did himself, the fact that he sent sensitive information via an AOL account seems to mean that one of two things has to be true: either Pence's actions were a security threat that make him deserving of public outrage, or his actions were perfectly within the law, and he had no right to contribute to the attack on Clinton that had a huge influence on the outcome of the election. Perhaps the most frustrating reality of all though, is that given the sheer number of scandals that have already surfaced since the Trump Administration took over, it seems most likely that Pence will not be held accountable, and that the public will never actually receive an answer to that question.