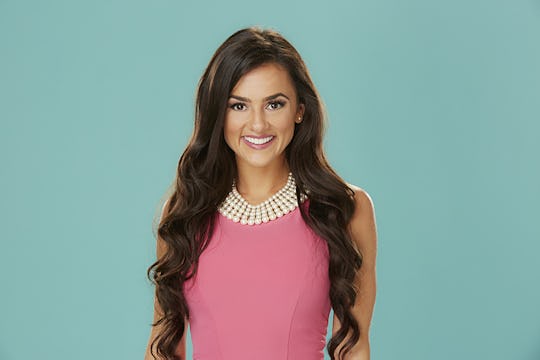 Monty Brinton/CBS
Could Natalie Win America's Favorite Player On 'Big Brother 18'? She Is In The Running
Although winning the grand prize of $500,000 at the end of Big Brother is pretty awesome, winning the $25,000 for being America's Favorite Player is also a pretty sweet deal. James Huling, who returned to the Big Brother house this season, won America's Favorite Player during Season 17 but that doesn't necessarily mean he'll win again. Big Brother 18 has seen a lot of great players, including Natalie. But will Natalie win America's Favorite Player on Big Brother 18?
Natalie's likable, bubbly, and most importantly playing a smart game. At the start of the season Natalie was best known for wanting a girl to win and starting the all girls alliance, The Spy Girls, that quickly fell apart when they aligned with the wrong side of the house. However, since then Natalie has cemented herself a secure spot in the house. Her showmance with James has granted her a lot of safety, especially when there was a brief all guys alliance and then Natalie started making big moves when she was able to flip the house against Paulie. Although Natalie seems like a genuinely nice person it was awesome to see her come alive and defend herself against Paulie and help take out a big target.
Since then, Natalie has shown a perseverance that might or might not find its end sooner rather than later. But, to be America's Favorite Player, you don't need to get to the end. Instead, you just have to have a great attitude that the audience is rooting for. Interestingly enough, James — Natalie's partner-in-crime — won America's Favorite Player during his season. Could Natalie continue the trend and keep the favorite player vibe alive?
Honestly, it would be good to see Natalie win in a relatively male-dominated game. She has made moves, despite keeping a low profile (some will probably even say floated) throughout the season. Her move to get Paulie out, along with her fight to keep the women alive and well in the game is admirable and should totally be rewarded.
To be fair, the other options for America's Favorite Player are well-deserving. Paul has played a relatively seamless social game (given the fact that he was literally one of the most disliked houseguests in the beginning of the game). Victor, on the other hand, has survived many evictions this season, how can you not root for the Victor with nine lives?
It's clear that Natalie's come to play and the fact that she's no longer just floating by but actually making game changing moves will make her a fan favorite for sure. Fans loved seeing her take on Paulie and although it was brief, the alliance between Natalie, James, Michelle, Paul, and Victor was very well-liked. Unless Natalie suddenly has a total change in character, she has a very good shot of becoming this season's fan favorite.