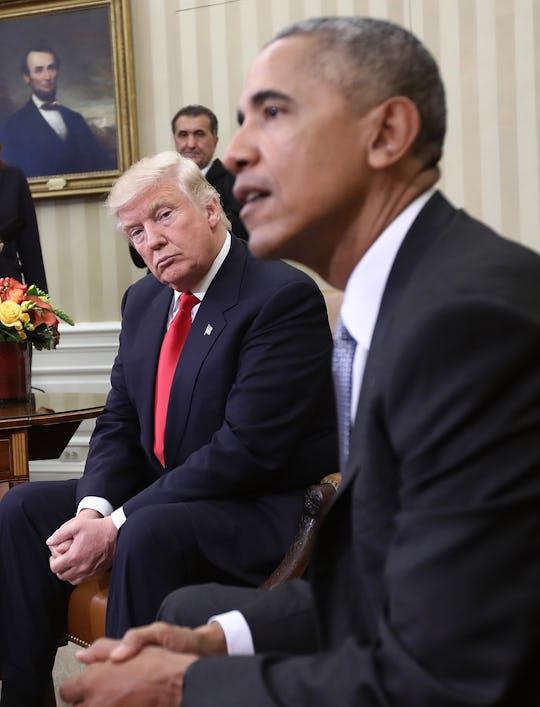 Win McNamee/Getty Images News/Getty Images
Obama Is Confident He Could've Beaten Trump
In a matter of weeks, the United States will transition into a Trump presidency and say goodbye to President Barack Obama. But, for a good percentage of the nation, that's a tough pill to swallow and to accept Donald Trump as the incoming president. So, as Obama is on his way out of the White House, some may be asking themselves: Could Obama have beaten Trump if he were constitutionally eligible to run for a third term?
In an interview on Monday with CNN's David Axelrod, Obama said he is confident that his 2008 campaign message of "hope and change" still resonates with many, even after his two terms in office, and believes he could have won in this year's election if he was eligible to run again.
"I am confident in this vision because I'm confident that if I had run again and articulated it, I think I could've mobilized a majority of the American people to rally behind it," Obama told Axelrod, the president's former senior adviser and longtime friend, in an interview for the The Axe Files podcast, according to CNN.
Obama continued in the 50-minute interview that aired on Monday, "I know that in conversations that I've had with people around the country, even some people who disagreed with me, they would say the vision, the direction that you point towards is the right one."
In the interview, Obama said Hillary Clinton's campaign acted too cautiously out of overwhelming belief that she would win the presidency easily. He also implied that Clinton's loss may have reflected her "longstanding" difficult relationship with the press that ultimately amplified her flaws.
"If you think you're winning, then you have a tendency, just like in sports, maybe to play it safer," Obama said in the interview, adding that Clinton "understandably . . . looked and said, well, given my opponent and the things he's saying and what he's doing, we should focus on that."
Soon after the interview aired, Trump fired back at the president's assertion that he believes he could have won a third term if he were legally able.
"President Obama said that he thinks he would have won against me," Trump tweeted Monday afternoon. "He should say that but I say NO WAY! - jobs leaving, ISIS, OCare, etc."
There's no doubt that Obama — whose recent approval ratings have been some of the highest during his two terms, according to Politico — will be missed by many once Trump officially takes office on Jan. 20.
Trump's response to Obama's interview has reminded many of how vicious the 2016 campaign was, while sharing a bit of insight into what the next four years might be like for these two powerful figures.